Michael Chopra buoyant after 'hard times'
Last updated on .From the section Football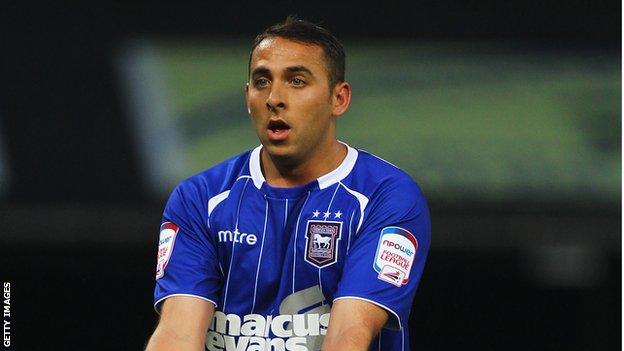 Ipswich Town striker Michael Chopra says he has returned to his best form for the first time since receiving treatment for a gambling addiction.
The 28-year-old has scored four goals in his last three games, after netting just once in his previous 12.
"With what's been going on in my life the last year it's been hard for me at times," he told BBC Radio Suffolk.
"I had to take sacrifices through that and now it seems it's going well. I think I am getting back to my best."
Chopra continues to receive treatment from the Sporting Chance Clinic, who have been helping the forward in his recovery since October.
And after taking his tally for the season to 11 with his strike in Tuesday's 1-0 win at Portsmouth, the Asian footballer of the year has revealed he expects to surpass 20 goals this term.
"The way I'm playing at the moment, it's helping the team," he said.
"I'm enjoying my football at the minute, I'm getting a lot of chances to score goals and I'm managing to take them.
"I believe in myself and I believe in my ability. I believed if I got chances to score goals I'd do that. I still believe I'll get 20 goals this season."
Chopra, who has lost an estimated £2m through gambling, is also aware that reaching his target of overcoming his addiction will take considerable time.
He said: "It's not a thing that's going to go away in days or months. It's going to take years. I just take each day as it comes."