Saturday football - as it happened
Last updated on .From the section Football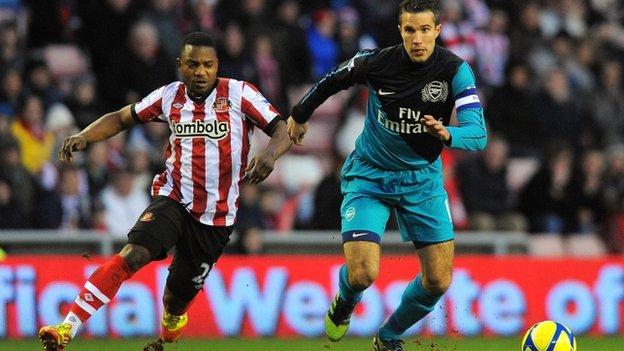 PLEASE MANUALLY REFRESH THIS PAGE
GET INVOLVED: Tweet me @mikehensonbbc using the hashtag #bbcfootball or text me on 81111 (UK) with FOOTBALL before your message. Make sure YOU PUT YOUR NAME on those texts though.
By Mike Henson
1942: That is all for this afternoon folks. Thanks for keeping up the blitz of texts and tweets. I'll see you tomorrow for a bit of Crawley v Stoke, Stevenage v Tottenham and Liverpool v Brighton won't I? I'll take that as a yes.
Alistair Magowan's FT snapshot: "This should have been more comfortable for Everton, but they are showing more signs that the belief has returned and they will fancy their chances of an FA Cup Wembley appearance."
David Ornstein's FT snapshot: "A goal in either half puts Sunderland into the FA Cup quarter-finals as Arsenal's deeply troubled season takes another turn for the worse."
Owen Phillips' FT snapshot: "Chelsea improved to reasonable after a dire first half but failed to build on Daniel Sturridge's leveller. Birmingham were well worth a replay and could have won it at the end. Another couple of displays like that and Andre Villas-Boas will have to plead to keep his job."
John Sinnott's FT snapshot:"Bolton put their relegation worries to one side as goals from Ryo Miyaichi and David Ngog secure Owen Coyle's side an FA Cup quarter-final place at Millwall's expense."
Chris Osborne's FT snapshot: "Leicester secure a well deserved victory against Norwich showing attacking intent and, after a delightful winner from David Nugent, surviving a late onslaught."
1928: Let's take stock of the day with a rundown of what our various match reporters made of their afternoon's viewing...
BBC Sport presenter Gabby Logan on Twitter: "Sunderland just brilliant. Have nothing but the utmost respect for O'Neill and his side."
1924: While we have been taking in the match on Wearside, Notts County have relieved manager Martin Allen of his job in the wake of the team's 3-0 defeat to Hartlepool. That match, and the rest of the Football League action, will be on the Football League Show from 2300 GMT on BBC One tonight.
Chief football writer Phil McNulty on Twitter: "Wenger has earned the right to try and turn Arsenal around - but there must never be another last day transfer trolley dash. As for Sunderland - magnificent work by Martin O'Neill. Sunderland & Everton dark horses who might be getting that Wembley feeling."
1920: Looking beyond the Spurs game next weekend, Arsenal fixtures read: Liverpool (a), AC Milan (h), Newcastle (h), Everton (a). It could turn messy very quickly in north London.
David Willis on Twitter:"Game over Arsene, and I don't mean this match."
Phil Brown on BBC Radio 5 live: "Sunderland have come up against Arsenal at the right time, there's no doubt about it. The rigours of that defeat in midweek has taken the wind out of their sails - it was a psychological blow for them. Sunderland worked harder than any team I've seen in a long, long time. It was a fantastic team performance and a well-deserved victory. Martin O'Neill said in the Premier League you're never further than two games away from a crisis. Well, those last two defeats means it's a massive crisis for Arsene Wenger. They didn't have a plan B, plan C or a plan D. They need to get that desire back because they had it but they haven't got it at the moment."
1914: The Sunderland express train is back rolling. They have four wins from five games in February now, but where does this defeat leave Arsenal? They desperately need to cling onto fourth place in the table to salvage something from the season. Their next match? Tottenham at home next Sunday.
FULL-TIME: Sunderland 2-0 Arsenal
1907: A pretty, tippy-tappy exchange of passes between Gervinho and Alex Oxlade-Chamberlain briefly threatens to open Sunderland, but it has never looked like happening for the Gunners.
1905: Three minutes of added time pops up on the board and a wild, wild long-range attempt from Mikel Arteta rather sums up a miserable afternoon for Arsenal.
1903: Stephane Sessegnon comes off to a big ovation and Fraizer Campbell enters the fray for the final couple of minutes of normal time.
Matt Cartwright on Twitter:"Have to feel sorry for Oxlade-Chamberlain with the own goal, he was the only player to try and get back when Sunderland broke with the ball."
1901: That might be Arsenal's best chance of the second half. Tomas Rosicky runs at the heart of the hosts' defence and slips in Robin van Persie, but the striker can not sort out his feet quickly enough and stubs his shot over to jeers from the home fans.
Phil Brown on BBC Radio 5 live: "At the end of the game we won't be talking technical ability, we'll be talking about work rate, attitude and desire."
1857: Sunderland are revelling in their superiority and they almost have a third as another vicious Sebastian Larsson delivery from out wide has Lucasz Fabianski flapping. Alex Song bales him out with a hoofed clearance.
GOALFLASH: Sunderland 2-0 Arsenal (Oxlade-Chamberlain o.g)
Arsenal are caught on the counter and that looks like a fatal body blow to their hopes. Stephane Sessegnon surges through the centre and has options right and left. He opts for Sebastian Larsson whose shot hits the inside of the post and squirms over the line via the unfortunate Alex Oxlade-Chamberlain as the youngster covers back.
1850: Arsenal are resorting to arrowing balls in towards Robin van Persie's forehead from out wide. The Dutch striker is having little joy against Michael Turner though. Thomas Vermaelen is better suited to the tactic but nods a Mikel Arteta free-kick straight into the gloves of Simon Mignolet.
1847: Johan Djourou pushes himself forward to try and up the tempo and is almost caught out as James McClean's pass looks to spring Stephane Sessegnon through on goal. The through ball is intercepted just in time by Alex Song.
1843: Sunderland have weathered that storm and eat into the clock a little further as they pop the ball around midfield. No great urgency to go for a second killer goal from the hosts.
1841: Phil Bardsley gets an important touch on Robin van Persie's full-blooded free-kick from just outside the D to send it skidding behind for a corner.
1839: Arsenal are coming into it more now with Sunderland dropping deeper. Robin van Persie is incensed by the lack of a penalty after Michael Turner gets him in a bearhug as the pair wait for a cross to come in.
Ketan Vekaria on Twitter:"Sunderland working so hard and closing as a team but can they keep it up or will fatigue get to them and let Arsenal in?"
1835: Sunderland's gathering momentum is halted momentarily as Phil Bardsley catches his studs in the dodgy Stadium of Light turf and has to take a moment to stretch off the joint. The former Manchester United man is back up and running now though.
1833: Arsenal are at sixes and sevens, disjointed and struggling to keep possesion. Even Thomas Vermaelen seems affected as he gets a yellow card for a lunge on Sebastian Larsson.
1831: A reorganised Arsenal backline is made up of Bacary Sagna, Alex Song, Johan Djourou and Thomas Vermalen. Theo Walcott has gone up front for the visitors.
1829: It is a double substitution for Arsenal as Aaron Ramsey and Sebastien Squillaci make way, with both looking to be carrying injuries, to give Theo Walcott and Tomas Rosicky a run. That is all Arsene Wenger's substitutions used up.
1826: Tomas Rosicky is taking his trackie bottoms off on the Arsenal bench. Meanwhile a wicked cross from James McClean, who has been excellent once again, is nodded wide by Craig Gardner at the back stick.
Jack Bloomfield on Twitter:"What I would give to have Winterburn - Adams - Bould - Dixon at the back again... #Dreamland"
1824: Arsenal manage to summon up a bit of pressure of their own and there are some nervous moments in the Sunderland box before Mikel Arteta shanks a shot well over the top from the edge of the area to let them off the hook.
1822: Sebastian Larsson ripples the roof of the net as his curling effort drops just over the bar.
1820: Sunderland immediately on the attack and Bacary Sagna chops down James McClean to earn a booking and give Sunderland a free-kick in a prime location just on the edge of the box.
1817: The second half gets under way at the Stadium of Light.
Manchester United striker Wayne Rooney on Twitter: "First time back at Goodison to watch. Great win. Everyone at the club made me feel really welcome. Thank you."
Rooney was in attendance for the 2-0 win over Blackpool earlier this afternoon.
1817: Sunderland's tempo has been relentless, harrying Arsenal when they don't have the ball and surging forward as soon as they manage to turn over posession. Can they keep it up all the way though the match? It is a strategy that takes a lot out of the legs on a heavy pitch.
Glenn Tosek on Twitter:"Squillaci and Djourou are the most nervy, out of form, unconfident, poor centre-backs I've ever seen."
It is a long, long way from that Winterburn - Adams - Bould - Dixon rearguard.
1812: They managed it but this Arsenal team, without Thierry Henry, do not look like it is within them to pull this match back round judging by the first 45 minutes.
Phil Brown on BBC Radio 5 live: "The last minute of the half sums up the whole game for me. Arsenal with a lot of possession but being forced out of good areas and the workrate of the Sunderland players in phenomenal. What does Arsene Wenger do now? He was highly critical of his players in midweek and he's going to have to do it again. Some of his players have gone missing and don't seem interested."
Fintolini on Twitter:"Always wondered why Ferguson let Richardson go.. He's got pace, decent strike on him and works hard. Could do worse."
David Ornstein's HT snapshot:"Richardson strikes to put Sunderland in control and leave Arsenal with 45 minutes to save their season."
HALF-TIME: Sunderland 1-0 Arsenal
1803: The Gunners are listing badly and will be pleased if they manage to get back to the safety of the dressing room without conceding another.
1802: Arsenal are close to slipping two goals behind as another cross from Sebastian Larsson causes problems, finding Jack Colback at the far post. James McClean comes close to poking home his team-mate's knock down but Lucasz Fabianski is out quickly to put him off.
GOALFLASH: Sunderland 1-0 Arsenal (Richardson)
It all came from Johan Djourou's needless surrender of possession. Sebastian Larsson swung over the subsequent free-kick and, although Thomas Vermaelen heads away the initial delivery, Kieran Richardson blast a shot back across goal and it finds its way into the cornr via a deflection off Sebastien Squillaci.
1755: Johan Djourou goes into Howard Webb's notebook as he is pickpocketed by Craig Gardner and then hauls back the Sunderland midfielder before he can make any further progress.
1753: There a surprising number of empty seats at the Stadium of Light considering the illustrious visitors and the excitement generated by Martin O'Neill's time in charge. Maybe they have all just headed for a half-time pie 10 minutes early.
Steve in Newmarket texts: "Never ceases to amaze me how Arsene Wenger's much- vaunted youth policy veers from "Messi" to "messy" so consistently!"
1749: Robin van Persie takes a tumble in the box as the ball rolls invitingly through for him. It was John O'Shea's tackle that sent him to the deck, but replays show the Irishman got a smidge of the ball. Good call from referee Howard Webb.
1747: Sunderland are matching Arsenal so far though and Sebastian Larsson's corner whizzes through the six-yard box without anyone getting a touch.
1745: First effort in anger from Arsenal as Gervinho hammers goalwards from Aaron Ramsey's smart pass, but Simon Mignolet is equal to it and parries over the top.
1744: A great challenge from Jack Colback on Alex Oxlade-Chamberlain stems the flow of an Arsenal counter-attack and wins applause from the home fans.
Nayin Zaman on Twitter:"Am I watching a match or a comedy film here? Arsenal are looking completely off the pace."
1740: Stephane Sessegnon is getting stuck into Sebastien Squillaci for a second time since the Frenchman's arrival off the Arsenal bench. The Sunderland man almost bundled his way through on the left-hand side.
1738: Aaron Ramsey and Alex Song both look like they will be able to play on despite those knocks in the early stages.
Phil Brown on BBC Radio 5 live: "The majority of the play has been in Arsenal's half. Sunderland needed to start well on the back of Arsenal's display in midweek."
1737: Arsenal look unsettled now after making a good start. Johan Djourou makes a hash of a clearance and the Sunderland crowd are rapidly gaining decibels.
1735: And a third Arsenal player is wincing as Alex Song collides with Lee Cattermole and is left hobbling. Think he will be able to run that one off though.
1733: Aaron Ramsey is struggling for Arsenal after rolling his ankle in a challenge with James McClean. Could be more reorganising for Monsieur Wenger.
1732: Lee Cattermole's quick free-kick catches the Arsenal defence in disarray and Stephane Sessegnon has time to line up a shot from 25 yards. His effort is well-hit but a couple of yards wide.
Paul, from London, texts: "Arsenal to make up for that shambolic of a football match against Milan. Arsenal to win 1-3."
1729: After a bit of bad luck Arsenal get a bit of fortune as the ball loops up and makes contact with the hand of Alex Song in the box. Referee Howard Webb must have thought it was accidental if he saw it at all because there is no whistle.
CHAMPIONSHIP ROUND-UP: Southampton lead the Championship following their 4-0 win at home to Derby. With new manager Neil Warnock in the stands Leeds came back from 2-0 to win 3-2 at home to bottom club Doncaster, Luciano Becchio with a 90th minute winner. Nottingham Forest climbed out of the relegation zone with a 2-0 win at home to lowly Coventry. Dropping in at their expense were Portsmouth who lost 2-0 away at Barnsley in their first match since administration and a 10 point deduction. Meanwhile there were convincing wins for Crystal Palace, Ipswich and Peterborough.
1725: Early injury trouble for Arsenal as Francis Coquelin's hamstring goes as he attempts to accelerate away. On comes Sebastien Squillaci as Thomas Vermaelen slots in at left-back.
1723: Mikel Arteta sends a shot swirling in, but Simon Mignolet has it just about covered and watches it skid just wide.
1721: Arsenal have a free-kick, 30 yards out, after Craig Gardner catches Robin van Persie late.
1721: Alex Oxlade-Chamberlain squeezes a cross around Kieran Richardson, it is aimed at Mikel Arteta but is cut out before reaching its intended target.
1720: Sunderland see off the set-piece, but Arsenal have come out the traps well on Wearside.
1718: Gervinho skips away from a Sunderland defender and Phil Bardsley has to get across sharpish to clear for an early Arsenal corner.
1716: Howard Webb sounds the starting whistle and Arsenal get us going.
Sanjay, in London, texts: "Fancying a big Sunderland win today... Demoralised Arsenal no match for England's in-form team!"
Martin O'Neill speaking to ITV: "Arsenal had a difficult game in midweek, the previous week we had difficult game in midweek [against Middlesbrough], so maybe it levels itself out. I'm not sure but Arsenal are capable of playing midweek, the have the strength of squad to cope with that a little bit better than us at the moment. Fraizer [Campbell] has played a few games [since his injury] and done excpetionally well, far better than anyone expected. It may be a case of looking after him over the next few months. Lee [Cattermole] is a very good leader of the team and I'm hoping that leadership will be important for us today."
1713: Sunderland's former Gunner Nicklas Bendtner has just been spotted on the sidelines, sporting a Sinatra-esque combo of cocked hat and effortless cool. I'm sure that is what he thinks anyway...
1711: Sunderland progressed the last 16 of the FA Cup with a blood and mud victory over north-east rivals Middlesbrough in the previous round. That sort of energy and commitment is the kind of thing that has got up the north Londoners' noses in the past.
Sunderland v Arsenal
David Ornstein reports:"This is one of the most important matches in Arsene Wenger 16-year reign as Arsenal manager. With their Premier League title hopes long gone and Champions League ambitions in tatters, Wenger's side travel to Sunderland knowing defeat will all-but guarantee a seventh consecutive trophyless season. They snatched a late win on Wearside last weekend, but there's no Thierry Henry to save them this time and the Black Cats will be out for revenge."
Arsenal manager Arsene Wenger admits Wednesday's drubbing by AC Milan will stick with him 'until the last day' of his life, but he insists his side are 'ready for a new fight' in competition that 'becomes even more important' following their San Siro humbling. Sunderland boss Martin O'Neill believes the Gunners 'have shown they're capable of coming back from adversity', adding: 'we will have to fight for everything and get a little bit of luck'.
1706: After their humbling at the hands of AC Milan in midweek, a trip to Cup specialist Martin O'Neill's Sunderland was not the sort of encounter Arsenal will have wanted.
Graham Taylor on BBC Radio 5 live: "Millwall gave everything but when it came to the final ball and final shot they were found wanting. In contrast two moments of quality were responsible for those two Bolton goals and the visitors deserved their win."
Laurence LOTCCope on Twitter:"How long before N'Gog starts to get some praise instead of all the misplaced abuse. £3m vs £50m Torres & £35 Carroll."
Former Norwich and Leicester striker Dion Dublin on Final Score: "Maybe Norwich went into the game a bit too confident. Leicester have a lot of quality and I'm hoping Norwich didn't go into it thinking they're in that league but we're in this in league."
Nigel Worthington, former Norwich City manager on BBC Radio 5 live on his former club's defeat: "Leicester have been very measured in their approach and deserve a great deal of credit. There's been no star for Leicester today, it was a superb team performance and they all deserve praise. Paul Lambert will be disappointed but at least Norwich can turn their full attention to doing as well as possible in the Premier League."
Sunderland v Arsenal
David Ornstein reports:"Sunderland make one change from last weekend's Premier League defeat by the Gunners as captain Lee Cattermole recovers from a hamstring injury to replace Fraizer Campbell. There are five alterations to the Arsenal side thrashed at AC Milan in midweek - out go Wojciech Szczesny, Laurent Koscielny, Kieran Gibbs, Tomas Rosicky and Theo Walcott, in come Lukasz Fabianski, Johan Djourou, Francis Coquelin, Alex Oxlade-Chamberlain and Gervinho, who starts for the first time since 2 January following his involvement in the Africa Cup of Nations."
Sunderland: Mignolet, Bardsley, O'Shea, Turner, Richardson, Larsson, Cattermole, Gardner, Colback, McClean, Sessegnon. Subs: Westwood, Bridge, Campbell, Ji, Meyler, Kyrgiakos, Elmohamady.
Arsenal: Fabianski, Sagna, Djourou, Vermaelen, Coquelin, Song, Arteta, Gervinho, Ramsey, Oxlade-Chamberlain, van Persie. Subs: Szczesny, Rosicky, Walcott, Squillaci, Arshavin, Chamakh, Benayoun.
Referee: Howard Webb (S Yorkshire)
1655: Twenty minutes till the off at the Stadium of Light, let's have a look at the team line-ups.
FULL-TIME: Everton 2-0 Blackpool
FULL-TIME: Norwich 1-2 Leicester
1652: Johnny Heitinga's foul on Roman Bednar gives Blackpool's Kevin Phillips the chance from 12 yards out, but the veteran blazes clean over the top.
MISSED PENALTY
BLACKPOOL PENALTY
FULL-TIME: Millwall 0-2 Bolton
1648: Striker Lomano Lualua has hit the post for Blackpool at Everton, it is all a little bit too late for Ian Holloway's men though.
1648: Leicester come close to sealing their upset as Jermaine Beckford hits the post before Norwich almost pull themselves level though with James Vaughan bringing a great save out of Kasper Schmeichel. See-sawing stuff.
1645: After their early goal blitz, Everton have not managed to add a third but they have come close. Blackpool's Craig Cathcart smashes Marouaine Felaini's shot off the line in the latest scrape for the Seasiders.
FOOTBALL LEAGUE LATEST: Crystal Palace seem to have secured their first Championship win of 2012, they're winning 4-0 against Watford. Ipswich are beating fourth-placed Cardiff 2-0, while Peterborough lead by the same scoreline against Bristol City.
In League One, table-topping Charlton have levelled at Tranmere thanks to Michael Morrison. Fifth-placed MK Dons are hammering Oldham 4-0, while Walsall lead 1-0 in their relegation zone clash against Wycombe.
Cheltenham now lead 5-0 away at Dagenham & Redbridge in League Two, league leaders Southend are 1-0 up at home to Crewe.
1641: Southampton are going to take Championship top spot in some style as Japanese striker Tadanari Lee hits their fourth against Derby.
Lucas Zocco on Twitter:"Ream looks very energetic and has hardly put a wrong foot all game, certainly looks like a good signing! Hope he keeps it up!!"
1635: Just under 15 minutes separates Leicester from victory at Carrow Road and Norwich becoming the round's first Premier League faller.
Former Norwich manager Nigel Worthington at Carrow Road on Radio 5 live: "You can't tell which is the Premier League side and Leicester deserve their lead."
1631: Millwall's on-loan striker Harry Kane's shot is well saved by Adam Bogdan and Darius Henderson is unable to convert the rebound. It's tipping it down now at the New Den.
GOALFLASH: Norwich 1-2 Leicester (Nugent)
David Nugent picks up Jermaine Beckford's knock down and shows quick feet and skill to skip through the Norwich defence and place the ball past Jed Steer.
1627: Norwich try to find some inspiration by bringing on striker James Vaughan against Leicester for his first appearance since a knee injury in September.
BREAKING TEAM NEWS: Robin van Persie, Alex Oxlade-Chamberlain and Gervinho start for Arsenal, with Francis Coquelin coming in for Kieran Gibbs. Wojciech Szczesny is out with Lukasz Fabianski in between the posts.
1626: Southampton are heading two points clear at the top of the Championship as Adam Lallana's close-range effort puts them 3-0 up against Derby.
Graham Taylor on Bolton's United States defender Tim Ream on BBC Radio 5 live. "The thing I like about Ream is that he's always looking around, looking across the line so he's got a good idea of what happening around him."
Apparently Ream's salary in the MLS was the £36,000 - that's a year, not a week.
1622: Everton still dominating play at Goodison Park where Johnny Heitinga nods over the top after Denis Stracqualursi had gone close.
1619: A couple of quick goals at the start of the second half at Elland Road as Mamadou Bagayoko puts Doncaster two up before Andros Townsend pulls one back for the hosts.
GOALFLASH: Millwall 0-2 Bolton (Ngog)
David Ngog's left-foot shot gives Bolton a two-goal cushion. Steve Mildenhall gets a hand to ball but the shot is too powerful. Bolton have one foot in the last eight of the FA Cup.
1610: Norwich come close to taking the lead against Leicester. Leon Barnett directs David Fox's corner towards goal but Richie Wellens is on had to knock it off the line.
BBC Radio 5 live's Mark Pougatch on Twitter: "Lots of Everton's old boys in the directors box. Wayne Rooney, David Unsworth, Duncan Ferguson who's been working at the Academy."
1610: Manchester United striker Wayne Rooney has been spotted in the crowd at Goodison Park watching former side Everton take on Blackpool. Once a Blue, Always a Blue, as that t-shirt read.
FOOTBALL LEAGUE LATEST: Neil Warnock will be desperate to get down to the touchline. His new club Leeds are 1-0 down at home to bottom club Doncaster thanks to Mamadou Bagayoko's strike. Crystal Palace lead 2-0 at home to Watford with goals from Wilfred Zaha and Chris Martin.
In League One, leaders Charlton are losing 1-0 at Tranmere, while Ched Evans has made up for missing a penalty by levelling for second-placed Sheffield United against Preston.
Plymouth are edging away from the League Two relegation zone, they lead 2-0 at Accrington, while Bradford have turned it around at in-form Torquay and now lead 2-1.
1607: A seventh corner for Millwall at the start of the second half and the Lions captain Paul Robinson goes close with a glancing header.
1603: We are back under way at the Den, Carrow Road and Goodison Park.
Freddie Drapkin on Twitter:"Early days for Ryo, but he looks to have potential. Hope that he follows in Sturridge's footsteps at Coyle's finishing school."
Southampton 1-0 Derby
BBC Sport's Tony Husband reports: "Derby's resilience will concern the home fans at St Mary's, with the Rams having clawed their way back into this one. But Southampton are halfway to the three points that will take them back to the top of the Championship."
Nottingham Forest 0-0 Coventry City
BBC Sport's Ian Shoesmith at the City Ground reports: "Typical six-pointer. Passionate but lacking in quality. Very few chances but Alex Nimeley, on loan from Manchester City, looks dangerous for the visitors, who have yet to win away this season. Forest have been largely restricted to set-pieces."
Norwich 1-1 Leicester
BBC Sport's Chris Osborne reports: "It has been an open, exciting game at Carrow Road, with Leicester putting in an excellent 45-minute shift and the Foxes were aggrieved that the officials did not agree that Wes Morgan's back heel crossed the line."
Everton 2-0 Blackpool
Alistair Magowan reports:"Everton well on top at Goodison and you wonder if Blackpool boss Ian Holloway rues the fact he made so many changes. If there is a comeback, it is a long-way off.
Millwall 0-1 Bolton
John Sinnott reports:"Millwall are still in this cup match after that rocky early start. The home side drew their previous two FA Cup games before going through after replays - they have 45 minutes to secure a third draw - or, who knows, go one better and pull off a dramatic win against Premier League Bolton."
HALF-TIME: Everton 2-0 Blackpool
HALF-TIME: Norwich 1-1 Leicester
HALF-TIME: Millwall 0-1 Bolton
Anthony Tasgal on Twitter: "Now T. Ream starts for Bolton things can only get better..."
The mid-nineties memories come flooding back. I wonder what happened to D:Ream's keyboard player?
1543: Everton are knocking on the door as they search for a third against Blackpool. Marouane Felaini, Darron Gibson and Denis Stracqualursi all going close for the home side.
1540: Rain falling steadily in south London and Millwall, trailing Bolton thanks to Ryo Miyaichi's early goal, have come back into the game. "They are just lacking that final ball," says Graham Taylor on BBC Radio 5 live.
1539: David Moyes's Everton side are heading for their fourth win in five matches. A club and manager with a fine FA Cup pedigree, they are a pretty strong outsider to lift the trophy come 5 May for my money.
Phillycheese419 on Twitter:"In Moyes we trust! The man knows how to make a loan signing."
1533: Leicester have had a good shout for a goal. Jed Steer flaps at Ben Marshall's corner and Wes Morgan sends it goalwards with a cheeky back heel. Elliott Ward blocks it with his chest on the line. Did it cross? It's difficult to tell even with replays.
Graham Taylor on BBC Radio 5 live: "Millwall have come back into the game, but they do give the ball away and if they keep doing that against Premier League opposition they are going to suffer."
1530: Denis Stracqualursi has missed a chance for Everton as the home side continue to have the upper hand at Goodison. Blackpool's Gary Taylor-Fletcher has been forced off through injury with Roman Bednar coming on to take his place.
FOOTBALL LEAGUE LATEST: New Leeds manager Neil Warnock is in the stands at Elland Road to watch his new side play Doncaster. Caretaker manager Neil Redfearn remains in charge for the match against the bottom club. Elsewhere, Southampton are leading against Derby through Jos Hooiveld, knowing with West Ham not playing, a point can return them to the top of the Championship.
In the early game in League One, Dean Morgan's 78th minute penalty gave relegation-threatened Chesterfield a win against third-placed Sheffield Wednesday.
In League Two, promotion chasing Cheltenham are leading 2-0 at bottom side Dagenham & Redbridge. Torquay are hot on their heels, they're leading against Bradford as they hope to record their seventh league win a row.
1527: Despite roaring support from the Ibrox faithful, Rangers have fallen behind to Kilmarnock in the Scottish Premier League. BBC Scotland have full live text coverage of that match along with the rest of the SPL fixtures.
GOALFLASH: Norwich 1-1 Leicester (Hoolahan)
Leicester goalkeeper Kasper Schmeichel is a little unfortunate on two counts. He is firstly rather harshly judged to have fouled Elliott Bennett and then makes a great save from Wes Hoolahan only to see the Norwich midfielder blast the rebound past him.
PENALTY TO NORWICH
Charlie Barret on Twitter:"Chelsea's so poor! Absolutely no creativity, awful tactics, if AVB hasn't lost the players, he has lost the fans!"
Matt, from Manchester, texts: "Baffles me why Drenthe doesn't have a permanent place in Everton's team. Great player."
1520: Millwall are on the back foot against Bolton in the early stages at the Den. Fabrice Muamba might have done better with a shot when well positioned, while desperate defending is required as striker David Ngog threatens.
1518: Southampton have taken a 1-0 lead at home against Dergy with Jos Hooiveld finding the net. The Saints will go top of the Championships if they win this afternoon.
1516: There's a real edge to the game at Carrow Road. Ben Marshall has gone close for Leicester with a long-range effort. And Norwich's Simeon Jackson looked to be through at the other end until Lee Peltier's superb block.
Andy McPheat on Twitter:"Ryo Miyaichi has got so much potential. Amazing finish from the Arsenal loanee."
Daily Telegraph's football correspondent Henry Winter: "AVB dismisses "ridiculous' suggestion that Drogba gave half-time team-talk for #cfc. #spiky"
1512: A flurry of goals to get the afternoon bubbling then and it sounds like the temperature is rising at Stamford Bridge in the wake of Chelsea's disappointing 1-1 draw with Birmingham earlier this afternoon.
GOALFLASH: Everton 2-0 Blackpool (Stracqualursi)
Everton double their lead inside seven minutes as Magaye Gueye gets his head to Royston Drenthe's corner and Denis Stracqualursi reacts quickest to stab home.
GOALFLASH Norwich 0-1 Leicester (St Ledger)
Sean St Ledger rises above Steve Morison to glance in Ben Marshall's corner kick. It was the Foxes' fourth successive corner and Norwich did not look comfortable with any of them.
1505: A good chance for Norwich early on as the Canaries work it to Steve Morison, who shoots over from just inside the area.
GOALFLASH Millwall 0-1 Bolton (Miyaichi)
On-loan Arsenal forward Ryo Miyaichi doesn't take long to make his mark on his full debut for Bolton and it is a cracker of goal as he fires a shot past Steve Mildenhall inside three minutes.
GOALFLASH: Everton 1-0 Blackpool (Drenthe)
Amazing start. It takes only 49 seconds for Everton to take the lead. Poor defending by Blackpool and when Magaye Gueye crosses from the left, Royston Drenthe crashes the ball home left-footed.
1500: All three of our 1500 GMT kick-off are under way.
Chelsea manager Andre Villas-Boas after his side's 1-1 draw with Birmingham: "It is a poor result of course, 1-1 is not what we expected, but it gives us a chance to go to Birmingham and try and win and get the trophy. We needed more of a target man up front, laying off the balls, so we made a change. I'm not concerned with Torres' physical form, he's looking for the goals gives him extra motivation, extra stimulus. The desire was there, and the ambition, they matched us in that sense, their goal gave them further motivation, to get the draw and go back to their ground."
Bolton v Millwall
John Sinnott reports:"Bolton take a break from their relegation worries with a trip to Millwall in the FA Cup fifth round. The good news for Bolton is that their away record is 50% better than their home form, with Owen Coyle's side having won four times on their travels, which bodes well for the game in south London. Millwall, who reached the FA Cup final in 2004, needed replays to get past both Dagenham and Southampton in the previous rounds, which suggests Kenny Jackett's side are very much up for the cup."
Bolton manager Owen Coyle is hoping that an FA Cup win at Millwall could help his side in the search for that all elusive quality in football - confidence. "We want to go as far as we can and if you can win games in football, it is certainly never a distraction," said Coyle. "What it does is breed confidence and give everybody a lift, and that is why we are looking forward to this game."
Meanwhile Millwall manager Kenny Jackett expects his team to take advantage of his side's underdog tag in this tie. "If the players perform, if the players start well, if the players play with quality and passion, then the supporters will make it a fantastic atmosphere and the Den is a cracking atmosphere when there's a big game and also when we're the underdogs."
Everton v Blackpool:
Alistair Magowan reports:"Everton boss David Moyes is full of admiration for Blackpool counterpart Ian Holloway and the way they have recovered from relegation from the Premier League. 'They are doing really well in the Championship and Ian has done a brilliant job,' said Moyes, whose team are aiming to reach the FA Cup last eight for the second time in nine years. Despite the opposition, Holloway intends to continue with his attacking approach. 'We can't do anything else other than have a go,' he said."
Alistair Magowan reports:"Blackpool will get to test their Premier League credentials against Everton while aiming to extend a 10-game unbeaten run. This might have been an easier task for Ian Holloway's men earlier in the season as Everton have taken on a new lease of life since they brought in several new faces in January. David Moyes is without the cup-tied Steven Pienaar, while the Seasiders have an injury worry with Matt Phillips."
Alistair Magowan reports:"Everton make three changes to the team that beat Chelsea, with Landon Donovan missing what would have been his last match through illness, Steven Pienaar cup-tied and Tim Cahill also left out. Tony Hibbert, Royston Drenthe and Magaye Gueye all come in. Blackpool make seven changes to the side that beat Doncaster, with a Championship game against West Ham next Tuesday. Matt Phillips has not recovered from a hamstring problem, but Kevin Phillips starts."
Norwich boss Paul Lambert has made it abundantly clear where his priorities lie. The Canaries - who are eighth and on 35 points - are focused on achieving Premier League safety. "The league's the more important thing," said Lambert. "We're miles away from staying in the league. We're a countrymile from looking that far ahead." Leicester, 12th in the Championship, are holding onto a slim hope of making the play-offs. But boss Nigel Pearson wants his side to use the FA Cup to gain some momentum after a midweek loss at Watford. "I want us to go out an approach every game the same," he said. "It is the lack of consistency that has coninued to be our Achilles heel this season. I'm looking for a response from the players."
Chris Osborne reports: "As is the way these days the league is in forefront of the minds of both of these clubs. But Norwich fans will be quietly confident of Premier League survival and will be eyeing their first quarter-final since 1992. Leicester, four-times runners-up, desperately need to trigger a run of form that will give them hope of not only a memorable Cup run, but also a late surge up the Championship table."
1446: Paul Lambert's Norwich are sitting pretty in eighth position in the Premier League, but the Scot doesn't sound tempted to add an attempt at the FA Cup to a successful league campaign.
John Sinnott reports: Millwall goalkeeper Steve Mildenhall plays instead of David Forde, who has started the previous nine fixtures for Lions, with on-loan Spurs forward Harry Kane coming in for Ryan Mason. United States defender Tim Ream makes his debut for Bolton, with on-loan Arsenal midfielder Ryo Miyiaichi making his full debut for Owen Coyle's side. There are also starts for Tuncay and Fabrice Muamba.
Millwall v Bolton
Millwall: Mildenhall, Dunne, Robinson, Lowry, Barron, Feeney, Trotter, Smith, Kane, Henderson, Keogh. Subs: Forde, Craig, Bouazza, Henry, N'Guessan, Mason, Wright.
Bolton: Bogdan, Steinsson, Wheater, Ream, Ricketts, Mark Davies, Muamba, Reo-Coker, Sanli, Ngog, Miyaichi. Subs: Jaaskelainen, Robinson, Eagles, Knight, Klasnic, Pratley, Boyata.
Referee: Kevin Friend (Leicestershire)
Everton v Blackpool
Everton: Howard, Hibbert, Heitinga, Distin, Baines, Gueye, Gibson, Neville, Fellaini, Drenthe, Stracqualursi. Subs: Hahnemann, Barkley, Coleman, Vellios, Silva, Forshaw, Baxter.
Blackpool: Gilks, Baptiste, Cathcart, Wilson, Harris, Basham, Angel, Sylvestre, Taylor-Fletcher, Kevin Phillips, Ince. Subs: Halstead, Southern, Eardley, Evatt, Dicko, Bednar, LuaLua.
Referee: Michael Oliver (Northumberland)
Chris Osborne reports from Carrow Road: Four changes for each side at Carrow Road. Steve Morison starts ahead of Grant Holt up front for Norwich, who have 19-year-old Jed Steer in goal. Wes Morgan, Neil Danns, Ben Marshall and Tom Kennedy come in for Leicester.
Norwich v Leicester
Norwich: Steer, Martin, Barnett, Ward, Drury, Fox, Bennett, Pilkington, Hoolahan, Morison, Jackson. Subs: Ruddy, Johnson, Crofts, Vaughan, Surman, Lappin, Wilbraham.
Leicester: Schmeichel, Peltier, St. Ledger, Morgan, Kennedy, Marshall, Wellens, Danns, Dyer, Beckford, Nugent. Subs: Smith, Konchesky, Mills, Howard, Moussa, Delfouneso, Hopper.
Referee: Mike Dean (Wirral)
1437: So all square in the Premier League - Championship battle so far. Another three contests coming up hard on the heels of that opener though...
Chelsea's Daniel Sturridge: "We're disappointed with the result, we're playing at home, we wanted to get the victory and go onto the Champions League. It was good from a personal note to get a goal, we were hoping that would push us on, but we couldn't get another one. Any team at home wouldn't want a draw against a team in the league below, but we played great football today."
1431: Up next for Chelsea is a trip to Napoli in the Champions League. Manchester City came unstuck in southern Italy earlier in the competition and you would not fancy the Blues to do much better based on that performance.
1426: Chelsea chief executive Ron Gourlay puffs out his cheeks in the posh seats as the match comes to an end and what remains of the home crowd boos.
David Morris on Twitter:"What a load of rubbish- I think AVB may have had his chips- so poor at the moment."
1426: Chelsea chief executive Ron Gourlay puffs out his cheeks in the posh seats as the match comes to an end and what remains of the home crowd boos.
FULL-TIME: Chelsea 1-1 Birmingham
1423: Birmingham pump into the Chelsea box from a deep free-kick, but Curtis Davies can only direct his header over the top.
1421: Lampard cracks it into the base of the Birmingham wall and the chance is gone. Three minutes of injury time to see a winner emerge.
1420: Possibly the last chance for Chelsea who have a free-kick on the edge of the box with Didier Drogba and Frank Lampard over it...
1418: A late opening from Birmingham as David Luiz steps up and fails to win his header. Nathan Redmond nips in behind him but he doesn't look comfortable and runs around the ball to take a shot with his favoured right foot. It is a bit of a duffer and runs gently through to Petr Cech.
1415: A big penalty shout for Chelsea as Branislav Ivanovic attempts to surge on to Didier Drogba's smart backheel. The Serbian hits the deck as a defender runs across the back of him, but Martin Atkinson is not interested.
David Pleat on BBC Radio 5 live: "Although Chelsea have completely dominated possession in this half, Colin Doyle hasn't been unduly worried."
1414: Frank Lampard trots on but the crowd are not happy about the fact that Juan Mata is the man heading in the opposite direction. Chris Burke has replaced Wade Elliott for Birmingham.
1413: There are four fixtures in the Scottish Premier League today with troubled Rangers expected to have the biggest football crowd in the UK today for the home game with Kilmarnock. Thomas McGuigan will guide you through all today's Scottish football action.
Adam, from Kidderminster, texts: "It doesn't matter if Chelsea win this now, it will just mask what is clear to everyone - AVB doesn't seem to be getting anywhere near the best out of these players."
1411: Ten minutes remaining and Chelsea are still probing around the fringes of the Birmingham box. There is not a lot of penetration though and Frank Lampard is being readied on the sidelines for the home side.
1408: Jordan Mutch wins a free-kick for Birmingham. It is 40-odd yards out but he takes it on himself with a decent low hit thudding into Petr Cech's midriff.
Mark Lawrence on Twtter:"That's why Sturridge is a great player, becoming all rounded."
1404: Raul Meireles sees an effort from the edge of the box, deflect down into the turf and loop over the bar. Chelsea sense they are getting closer.
1403: Chris Hughton has removed Adam Rooney and thrown on Jake Jervis for Birmingham.
1402: Branislav Ivanovic almost gets on to a loose ball in the area after Juan Mata's cross has been fended away by the Birmingham defence. Wade Elliott is across sharply to block his effort.
1400: Birmingham has dropped back since the goal and it has allowed Branislav Ivanovic to press forward more and more frequently on the right flank. The Serbian has had a good game, looking neat and tidy on the ball.
1358: Didier Drogba manages to convince Martin Atkinson to give a free-kick with a trademark theatrical fall. From his reaction as he picks himself up he seems to think he has been pinched on the arm. Bizarre.
1356: Massive relief around Stamford Bridge as that goal went in and I suspect it was particularly felt in the home dug-out.
GOLAFLASH: Chelsea 1-1 Birmingham (Sturridge)
Branislav Ivanovic gets his head up out on the right flank and whips over a pinpoint cross that Daniel Sturridge snaps his neck muscles into, directing a powerful header down into the bottom corner past a helpless Colin Doyle.
1351: Another delicious first touch from Juan Mata as he tames a bullet fired his way from a defensive colleague. He is briefly free of Curtis Davies' attentions but fires his shot narrowly wide.
1349: Andre Villas-Boas ditches the defensive anchor as he replaces Jon Obi Mikel with Salomon Kalou.
1347: A neat set-piece routine from Birmingham as David Murphy dummies Jordan Mutch's low corner and Nathan Redmond is poised behind him. The youngster crashes his shot well over the bar though.
1344: Adam Rooney tussles with Gary Cahill as he attempts to break upfield in pursuit of an attempted through ball. The Chelsea defender is the one pinged by Martin Atkinson and he becomes the second player booked.
BBC Sport chief football writer Phil McNulty on Twitter: "Torres hooked at half-time. Been really hoping he would recapture the brilliance of his Liverpool days but hope running out now."
1341: Didier Drogba barges his way after Branislav Ivanovic's cross-field hoof. It has too much pace on it for the Ivorian, but he retrieves the ball and plants it back on the turf for Colin Doyle's free-kick. The crowd lap it up and there feels like there is life in this Chelsea side again.
1338: Didier Drogba is sniffing around a long ball forward, chasing it all the way through to Colin Doyle and earning grateful cheers from the home support.
Elad Levy on Twitter:"Fans chanting for Mourinho in San Siro last night and Stamford Bridge today. That's special!"
1336: Not long is the answer. Fernando Torres off and Didier Drogba on as the second half gets under way.
1333: How long will Andre Villas-Boas be able to resist throwing on Didier Drogba and Frank Lampard? Could his skin be saved by the Stamford Bridge old guard who he has been employed to oversee the gradual exit off?
Tor Noppharat on Twitter:"AVB, you have 45 min more to save your job. Chelsea players, only 45 min more till job complete."
Kush, from London, texts: "This is shocking. The Chelsea starting eleven are all aged under 30. No excuses."
1328: Suddenly there feels like there is a whole lot more than a quarter-final place at stake. If Chelsea had been behind but looked coherent and dangerous, they might have kept the crowd with them. As it is, it feels like Andre Villas-Boas's hold on their affections might be reaching a potentially fatal tipping point.
David Pleat on BBC Radio 5 live: "Chelsea playing against a very patient side, they're not pushing people forward, they're not playing recklessly. They've got to get someone up alongside Torres, there's a lack of penetration with a Lampard-like figure coming through the centre."
Owen Phillips reports from Stamford Bridge:
Beleaguered Chelsea boss Andre Villas-Boas has had to play down the significance of some of his squad texting former manager Jose Mourinho. Following this first half, owner Roman Abramovich may be putting the Real Madrid boss back on speed dial. Chelsea have created little, missed a penalty and the visitors deserved to go ahead. AVB may only have 45 minutes to save his job.
BBC Radio 5 live's Mark Pougatch, at Goodison Park for Everton v Blackpool, on Twitter: "Kevin Ratcliffe with us at Goodison today still laughing at my assertion that "Mata will definitely, definitely score this penalty...""
David Pleat on BBC Radio 5 live: "I'd love to be a fly on the wall in the Chelsea dressing room at half-time. I just wonder if the manager will look at Mikel and wonder if he can dispense with him in midfield and put another attacker on."
1320: A rumble of discontent greets the half-time whistle. Chelsea chairman Bruce Buck is on his feet applauding but he doesn't have a lot of company.
HALF-TIME: Chelsea 0-1 Birmingham
1319: Fernando Torres miscontrols Branislav Ivanovic's low cross and the ball flicks up for Juan Mata to nod at goal. A comfortable save for Colin Doyle from the diminutive playmaker though.
Ryan Smith on Twitter:"Could be the most important team-talk of AVB's career."
1315: A chant of Jose Mourinho's name goes round Stamford Bridge and it gathers a fair bit of momentum before dying out.
1314: Jon Obi Mikel tries his luck from further out and makes a slightly grubby connection. The ball trails wide.
1312: Great technique from Daniel Sturridge as he lashes a dipping half-volley a foot over from 25 yards. That at least woke up some of the home fans.
1310: Nathan Redmond has another little burst down the left and fires in on optimistic shot from a tightening angle. Petr Cech is down in plenty of time to claim it, but Birmingham have looked as likely to get a second as to be pegged back.
Dave in London texts: "We were poor under Big Phil, not great at times under Carlo, but it has been a long time since I have seen a Chelsea team as incompetent as this. Truly shocking."
1307: David Luiz dusts himself down and slaps a shot goalwards from the resulting free-kick. It is a sweetly struck effort and Colin Doyle has to be alert to push it off the bar.
1306: David Luiz sets off on an amble upfield and skips past a couple of Birmingham midfielders before being dumped on his backside by Jordan Mutch. Referee Martin Atkinson adds Mutch's name to his little black book.
1304: Juan Mata butchers an attempted chipped through ball and the ball flies clean through to Colin Doyle. Worrying for Chelsea when their best player starts catching the bug.
David Pleat on BBC Radio 5 live: "It was a silly challenge from Wade Elliott, he didn't have to go in. That was a fine save though and should give Birmingham great heart. It's on such moments that seasons get defined, that cup glory begins."
1300: Fernando Torres almost gets a touch as he canters on to Daniel Sturridge's low cross, but Curtis Davies does very well to nip in front of the striker and poke it away from him.
1256: Wade Elliott's needless hack at Ramires' shins gives Juan Mata the chance to haul his side back level after a little over a minute. The Spaniard's penalty is hard and low, but not quite far enough into the bottom left and a sprawling Colin Doyle palms it on to the post. A superb stop.
PENALTY SAVED
CHELSEA PENALTY
GOALFLASH: Chelsea 0-1 Birmingham (Murphy)
Trouble at the Bridge. It is not much of a delivery from the corner but Nathan Redmond's set-piece skids through the six-yard box and after Curtis Davies has swiped and missed, David Murphy applies the finishing touch at the far post.
1251: Jon Obi Mikel punts aimlessly long with on blue shirts anywhere in sight of where the pass endsn up. The crowd were not impressed.
Tottenham fan Luka texts: "People need to drop the pressure on Torres a bit, he's not worth 50 million, but he's still a great striker and the pressure is clearly getting to him, its games like these that will help him regain confidence and find his old form."
Tom Whall on Twitter:"Nice to see Nathan Redmond on show today. Fantastic talent."
1249: Juan Mata almost drags down Daniel Sturridge's cross at it loops over the top of Jonathan Spector, but the ball trickles off his in-step and the chance goes with it.
1247: Stephen Carr has hobbled off after getting caught by Ryan Bertrand a little earlier in the piece. He is replaced by former West Ham man Jonathan Spector who gets the welcome you might expect an ex-Hammer to get.
1244: Nathan Redmond has a run at Gary Cahill and earns a corner, but David Luiz sees off the set-piece.
1243: Daniel Sturridge attempts to skirt round Curtis Davies as Juan Mata's run drags Stephen Carr away to create a bit of space. Davies has a slip and a slide during the chase but just about recovers to snuff out the danger.
David Pleat on Birmingham's Nathan Redmond on BBC Radio 5 live: "He's exploded onto the scene this season, a lot of scouts are looking at him. It'll be fascinating to see how he copes, he'll be up against Ivanovic who's a very strong defender."
1237: Birmingham's away kit is a right old hodge-podge of colours with a yellow shirt on top of their normal white and blue home shorts and socks. I can not see it on offer in their online club shop and it doesn't surprise me.
1235: Branislav Ivanovic makes an early foray forward down the right flank, but runs the ball just a little too far and it is out for a goal-kick. Birmingham fans have taken all of three minutes to tell Andre Villas-Boas he is getting sacked in the morning and advise Fernando Torres that he doesn't know what he is doing.
1232: A little late, but we are up and running in west London.
1231: John Motson on BBC Radio 5 live says he has spoken to Chelsea captain John Terry who says it is unlikely that he will be fit to face Napoli in the Champions League on Tuesday despite returning to training. The defender is currently out of action with a knee injury.
Sekar C on Twitter:"Wondering how many goals Lukaku would have scored had he started instead of Torres."
1229: Captain Stephen Carr has a little chat with the Birmingham mascot before leading his yellow-shirted visitors out onto the pitch. Nice touch. Kick-off in T minus one minute.
BBC pundit Gordon Strachan on Football Focus: "Andre Villas-Boas is a young manager who wants to keep the media happy. Sometimes he should just get on with his job quietly. I think he needs a bit of help from Chelsea instead of them saying answer all these questions."
1225: The teams are being announced at Stamford Bridge and the crowd react with regulation cheers and jeers according to which set of Blues is being read out.
Lewis in Sheffield texts: "People need to lay of AVB, he's inherited what is more or less still José's team. He needs to be given time to dismantle and put together his own squad."
Owen Phillips reports from Stamford Bridge:
Chelsea leave out midfield duo Michael Essien and Frank Lampard so the fit-again Ramires and John Obi Mikel start. Misfiring forward Fernando Torres gets another chance to impress but Didier Drogba is back on the bench and Gary Cahill and Ryan Bertrand come into the defence. Birmingham's selection problems all come up front where Nicola Zigic and Marlon King are both ruled through injury, meaning Adam Rooney comes in to lead the line.
Chelsea v Birmingham
Chelsea: Cech, Ivanovic, Cahill, Luiz, Bertrand, Ramires, Mikel, Meireles, Sturridge, Torres, Mata. Subs: Hilario, Essien, Lampard, Drogba, Malouda, Bosingwa, Kalou.
Birmingham: Doyle, Carr, Davies, Ibanez, Murphy, Redmond, Fahey, Mutch, Elliott, Gomis, Rooney. Subs: Butland, Caldwell, Burke, Spector, Asante, Reilly, Jervis.
Referee: Martin Atkinson (W Yorkshire)
1217: You have to get up early in then morning to keep up with Leeds chairman Ken Bates who has snared Neil Warnock to be manager until the end of next season. Can the former QPR and Sheffield United boss pull off his promotion party piece once again?
Cian Wolfe on Twitter:"Some of AVBs decisions are a bit bizarre. Only Cahill's second game. And sturridge on the RW? No! Put him as CF!"
1210: Birmingham's fleet-footed young winger Nathan Redmond is one to watch today. He looked electric in the first game I saw him in
Max from Gravesend texts: "I'm 21 today, an easy victory for Chelsea with no stress today would be the perfect birthday present!"
Chelsea fan Sam texts: "It says an awful lot about how far Chelsea have fallen under AVB that Birmingham at home looks like an upset."
1202: If you have a selection for your team's Cup final single or, bizarrely, have anything to say about the actual football, then we are here for you. Text on 81111 from within the UK, with FOOTBALL and your name on messages, or tweet on hashtag #bbcfootball from anywhere. Go, go, go.
1157: The Blues are first up on the menu for today with an awkward encounter against Birmingham and there is a nice Premier League v Championship theme running through the main course. Here's how we go, with all kick-offs 1500 GMT unless otherwise stated:
(1230 GMT)
(1715 GMT)
1154: Judging by the reports coming out of Cobham, it might be difficult to herd the current Chelsea squad around the mic for a happy team sing-a-long. Manager Andre Villas-Boas has said it is 'normal' for some of his players not to back his project, as long as the owner does. Over to you Roman?
1151: I'm pretty sure that the sound of Dennis Wise, Gianfranco Zola and Suggs crooning Blue Day was what did for Middlesbrough in the 1997 Cup final. We need more of those fearsome battle cries.
BREAKING TEAM NEWS: Didier Drogba is on the bench for Chelsea with Fernando Torres, Juan Mata and Daniel Sturridge up front. Gary Cahill starts in defence. More to come shortly.
1145: Is that the heady secent of silver polish in the air? The rustle of timetables to north-west London being checked? If your team is still in the FA Cup they are two victories from a Wembley semi. Three wins away and they will be able to head down the recording studio and revive that grand old tradition of the Cup final single.