Rangers boss Ally McCoist refuses to concede title after defeat
Last updated on .From the section Football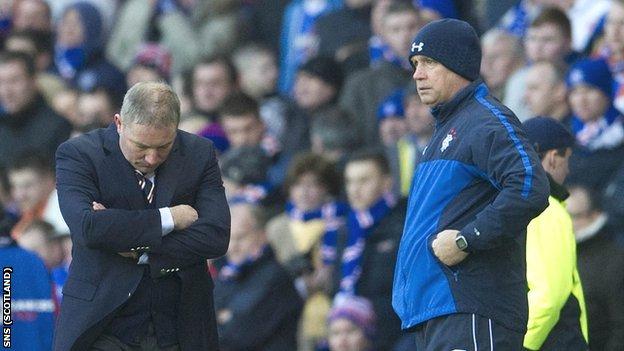 Rangers manager Ally McCoist refused to concede the title to Celtic despite a turbulent week for his club ending with a 1-0 defeat at home to Kilmarnock.
It leaves the reigning champions, who went into administration on Tuesday, 14 points behind leaders Celtic.
"I am very realistic and what I will assure every supporter is that we will do our best to win every game before the end of the season," McCoist said.
"I'm certainly not going to hand anything over at this stage."
Rangers failed to respond to Dean Shiels' 12th-minute strike despite a sell-out crowd packing Ibrox to show solidarity with McCoist and his players.
"Disappointing, really disappointing," said a downbeat McCoist about the defeat when interviewed by BBC Scotland.
"I said to the boys, if they perform with the same grit and determination as we did in the second half, we will be fine, but we could not get going in the first half.
"I was a lot happier with their attitude and desire in the second half and that is what we need from now until the end of the season.
"The lads know what we are faced with and the only way we can get out of it is hard work."
McCoist suggested that financial cutbacks before the club moved into administration had left his side lacking in sufficient quality.
"We had one or two wee chances, we had one cleared off the line and David Healy had one chopped off, probably correctly," he said before pointing out the sale of Nikica Jelavic to Everton.
"In terms of application, no problem at all. But there was a lack of quality, especially up front, where we have lost Jelavic and it showed."
Rangers' administrators are likely to require staff cuts and will announce their intentions next week after assessing the club's finances.
Asked whether the prospect of redundancies had weighed heavily on his players, McCoist replied: "Definite possiblity. It's easy for me to stand here and say it shouldn't have.
"If faced with the prospect of losing your job, you get different reactions from different people, but the application in the second half showed what is required."
In the wake of administration, McCoist had vowed not to walk away from the club and insisted that the defeat by Kilmarnock had not made him change his point of view.
"The support I've had from staff, from supporters, from people from all walks of life to our club has made me more determined than ever to get this club back on track and I will do all I can to do that," he said.
Asked who was at fault for Rangers' current predicament, McCoist wished to reserve judgement until the administrators had investigated the finances under owner Craig Whyte.
"I think the last thing this club needs is me pointing the finger of blame, because that will not do the club any good," he said.
"What will do this club good is me working to move this club forward.
"I have very important meetings with the administrators about the future of the club.
"The most important thing is the future of the club and the staff in the club."