Foxes boss Nigel Pearson defends prestige of the FA Cup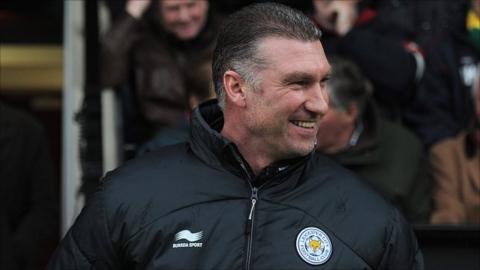 Leicester City boss Nigel Pearson has defended the prestige of the FA Cup after leading his side to the last eight with a 2-1 win over Norwich.
David Nugent's second-half strike secured a Cup upset at Carrow Road to put the Foxes in the quarter-finals.
"This is still a very important competition," said Pearson. "The FA Cup unfortunately seems to have diminished in terms of how people perceive it.
"But certainly not for me and I don't think for the fans either," he added.
"That was borne out of the pressures for success in European football for the bigger Premier League clubs. But it's still a very prestigious competition."
The Foxes have never won the FA Cup, but are four-times runners-up, in 1949, 1961, 1963 and the last time against Manchester City in 1969.
And Pearson hopes that their impressive display against the top-flight Canaries can trigger a run of form in the league.
City have yet to register back-to-back wins this term, and Pearson is looking to this result to lift them from their current mid-table position, nine points adrift of the Championship play-offs.
"I was pleased with the performance and the result is just what we needed," said Pearson.
"It still remains a frustration why we remain as inconsistent as we are. But there are lots of positives from today and I'm very pleased for the players.
"There have been a few false dawns. We've still got a number of games left in the league and plenty of points to play for. If we play like that consistently, clearly we're going to have a better chance of winning Championship games."
Pearson had particular words of praise for Nugent, whose well-taken winner was his third strike in two games and his 13th of the season.
"He's confident, plays with a smile on his face and is a positive influence for our team," said the Leicester manager.
"Whether he's scoring goals or not, his work-rate is exceptional. He's a very popular player amongst the team but, on days like today, he showed the quality he's got as well."