Chris Birchall willing to play for Port Vale for free
Last updated on .From the section Football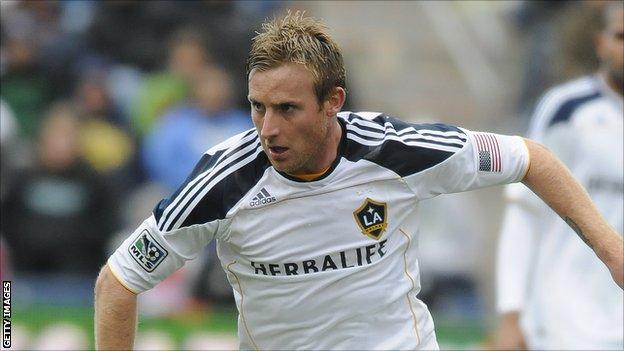 Midfielder Chris Birchall has told BBC Radio Stoke that he would be happy to play for Port Vale free of charge for the remainder of the season.
Birchall played 91 games for Vale before joining Coventry in August 2006.
"Initially when I went in, I said I'd play for nothing because I owe the club a lot," said Birchall.
"[Vale manager] Micky Adams has done a lot for me in my career as well. It's not just Port Vale, it's Micky Adams who has signed me for a couple of clubs.
"He's been very good with me so it's a good relationship that I've got with him. If I can help both of them out, then I'll do it.
"I wouldn't do it for anyone else, even if there was a different manager at Port Vale. It's just the two things that have come together - my relationship with Micky and my desire to see Port Vale do well.
"It's not a long-term thing and I can deal without it for a couple of months, it's no problem for me.
"If I can help the club, that's the main thing."
Birchall, who played for Trinidad and Tobago at the 2006 World Cup, made his senior debut for Vale as a 17-year-old.
Adams, then manager of Coventry, paid £300,000 for his services and later signed Birchall again whilst in charge of Brighton.
Birchall has spent the last three seasons playing alongside David Beckham at LA Galaxy and .
International clearance did not arrive in time for him to feature in the 2-1 win against Gillingham on Saturday, a result which lifted Vale up to eighth in League Two.
Adams is hopeful that Birchall will make a similar impact to Paul Marshall and Chris Shuker, who made their debuts as substitutes against the Gills and inspired Vale to a late victory.
"Marshall and Shuker have brought a little bit of freshness to the squad and hopefully Chris Birchall will do the same next week," said Adams.
"He [Birchall] looks fit enough. He's not played for a while so I think that will be the big problem for him, but he's a naturally fit boy.
"It will be good to see him in the squad. We need a few more extra bodies if we can get them.
"He'll add a bit more competition for places, which hopefully will kickstart the others into playing with a bit more enthusiasm."