Crewe's Steve Phillips must control temper, says Davis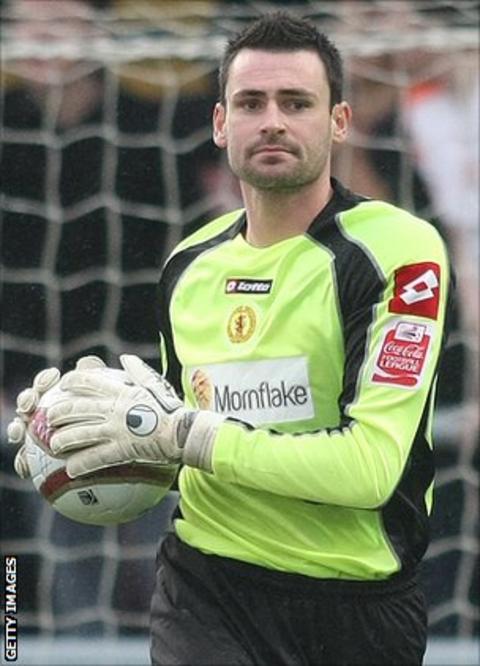 Crewe Alexandra manager Steve Davis has warned experienced goalkeeper Steve Phillips that he will not tolerate another on-field row with a team-mate.
The 33-year-old was booked following a confrontation with David Artell in the .
Davis told BBC Radio Stoke: "I addressed it, told Steve what I thought of it and that it mustn't happen again.
"Steve has a habit of doing that and losing his temper which, for a goalkeeper, is a definite no-no."
It is the second time this season that Phillips has been involved in an argument with a team-mate during a match.
The former Bristol Rovers man clashed with defender Adam Dugdale during a 1-1 draw against Crawley in December.
Speaking a few days after the incident, Phillips said: "It shouldn't have happened. Those things do happen but everything's fine. We're in a team that wants to win.
"I want to win and my will to win will never change. Things get said on the football field that you probably wouldn't say at any other time.
"Looking back, it's a bit cringeworthy and I wish it hadn't happened."
Davis has said that he will not take disciplinary action against either player but admitted he was disappointed to see another confrontation take place during a game.
"Once is too many, twice is certainly too many," said the Crewe boss.
"They've apologised and it certainly won't happen again. If it does happen again, I'll take some action.
"You don't want to show that on the pitch. All it did was get the crowd up against Steve and Dave, and all it does is demoralise the rest of the group.
"It might show to the opposition that they've got us rattled.
"Steve has got to better equipped to cope with any criticism that he gets and it's got to be dealt with in the dressing room.
"I said to him that he can punch as many people in the dressing room as he wants, as long as it stays in the dressing room. That's the right place to do it."