Portsmouth's problems are 'ugly' says administrator Trevor Birch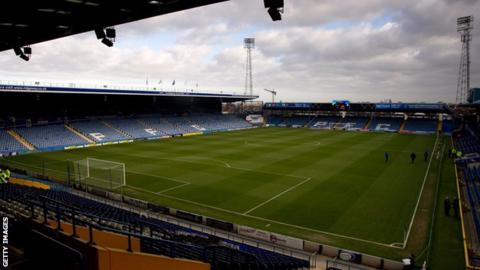 Portsmouth administrator Trevor Birch has described the situation at the financially troubled club as "crazy".
But Birch is sure the club, issued with a winding-up petition by HM Revenue and Customs on 3 January, will survive.
The former Chelsea chief executive said an unnamed player at Fratton Park, understood to be Tal Ben Haim, is earning in excess of £30,000 a week.
"For a Championship club, that's just crazy," Birch told BBC Radio 5 Live. "Expenditure has exceeded income."
Portsmouth have been penalised 10 points after entering administration for the second time in three seasons.
The deduction, together with a 2-0 defeat away to Barnsley, has seen them slip into the relegation zone.
Birch even likened Portsmouth's money problems to the brawl between British boxers Dereck Chisora and David Haye following Chisora's WBC heavyweight title loss to Vitali Klitschko.
"Just as the boxing incident was described as ugly, I think that word could be used by many supporters to describe the last few years at Portsmouth," he added on BBC Radio 5 live's Sportsweek.
"In simple terms, expenditure has exceeded income in a large way predominantly due to handing out unsustainable salaries to players on long-term contracts."
Players and staff were not paid in January, while Portsmouth manager Michael Appleton revealed last week the club could not afford to scan the injured calf of captain Liam Lawrence.
Asked if he thought the club would remain in business, Birch said he was confident that Portsmouth would emerge from their troubles.
"It's a one club city with a fantastic fan base," he said.
"If we can restructure behind the scenes in terms of the club's debts then yes, it's a great opportunity to sell the club. There is always somebody who will come forward."
The club have already been docked 10 points but if Pompey do not come out of administration via a Company Voluntary Agreement (CVA) there is a risk of the Football League deducting further points.
"The precedent is there for those clubs that didn't come out via a CVA of incurring further point penalties," added Birch.
"Leeds being the latest one who didn't come out via a CVA and I think they were docked a further 15 points before the start of that particular season.
"That will be a threat if it didn't come out via a CVA but there's no reason why it wouldn't come out via a CVA at this stage."