Richie Foran sympathy for Rangers after Carlisle experience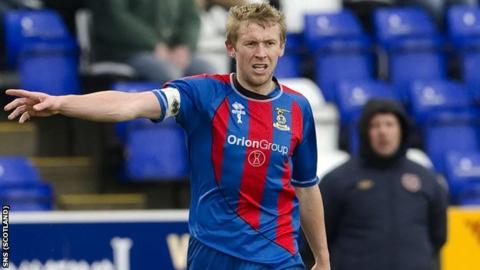 Inverness captain Richie Foran has expressed his sympathy for the staff at Rangers in the wake of the club going into administration.
Foran was in a similar position at Carlisle United in 2002.
"If you're not happy off the park it will affect your football," he said after Rangers lost 1-0 to Kilmarnock in their first post-administration game.
"It will affect at least half the team, not knowing their futures, not knowing if the mortgages are going to be paid."
Irishman Foran thinks the result at Ibrox should not come as a major surprise given events off the pitch.
"But they've got to rise above it and they've got experienced players there that can help the other lads through," he told BBC Scotland.
"I do feel for them, it's sad times, but hopefully they can get themselves organised and kick on for next year, because they're a wonderful club.
"We need them in the SPL and playing good football. Millions of people watch Celtic v Rangers every year, so they're good for Scottish football.
"Hopefully they can come back from this."
Foran was at Carlisle for three of the most traumatic seasons in the current League One side's history before moving to Motherwell.
And he remembers only too well the atmosphere at Brunton Park in those dark days.
"I feel sad for all the Rangers people, the supporters and the people you don't hear about, like the office staff, the cleaners," he said.
"Rangers must employ a lot of people and a lot could be let go, so it can be worse in football.
"It's personal, a lot of families are heartbroken now and I feel for all these people.
"I was in that situation at Carlisle, the same thing happened and you see people in tears going out the door.
"It's a very, very sad time."
Despite his sorrow for the beleaguered Ibrox side, Foran is aiming to pile on the misery when Rangers visit Caledonian Stadium on Scottish Premier League duty next weekend.
"I hope they're sad again walking off the pitch like they will have been after the Kilmarnock game," he added following his side's 1-1 draw away to Dunfermline Athletic.
"It's up to us to make sure they don't have a good day on Sunday.
"It will affect their players - I know it did with us at Carlisle, but they've got a wonderful manager there in Ally McCoist.
"He comes across really well and he's a Rangers man.
"He'll be helping the players to come through this."