Manchester City 3-0 Blackburn
Last updated on .From the section Football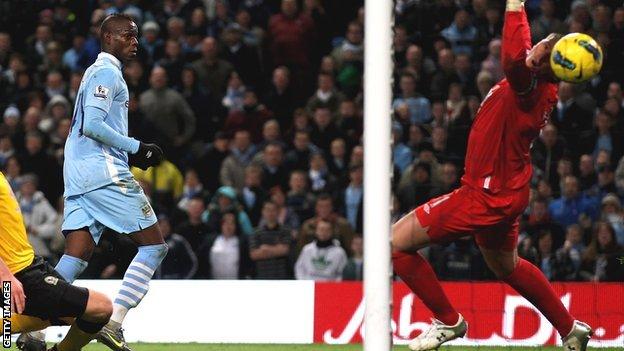 Manchester City extended their lead at the top of the Premier League to five points after claiming a comfortable home victory over struggling Blackburn.
City dominated from start to finish and took the lead when Mario Balotelli swept in Aleksandar Kolarov's cross.
A second goal, hammered in from close range by Sergio Aguero, made sure of the points before substitute Edin Dzeko headed in a third just after coming on.
Rovers could muster only two meaningful shots on goal in the whole 90 minutes.
The balance of the match was exactly as you would expect from one between the expensively-assembled, league-leading top-scorers and the comparatively cheap, 18th-placed side with the division's worst defence.
There was once a time when Blackburn were the team accused of buying their way to success, as Jack Walker's millions helped propel them to a first top-division title in more than 90 years in 1995.
Inflation and the spiralling cost of football mean the figures are far greater 17 years on, but the principle remains the same now with City on the riches-fuelled fast-track to potential Premier League glory.
It is a testimony to the speed at which modern football changes that in 1994-95, as Rovers were charging to the title, City spent just £30,000. In the build-up to and during this season alone Roberto Mancini has parted with more than £80m on players.
The result of such a lavish outlay is clear to see on the pitch. City were never troubled by a limited Blackburn side, who beat Manchester United 3-2 on their last visit to the city, but never looked like repeating the trick.
At the other end, the home side's artistic attacking unit - comprising the fulcrum of David Silva, the incessantly energetic Sergio Aguero and the enigmatically talented Balotelli and Adam Johnson - picked Rovers apart at will.
In contrast to City, Blackburn's outlay of around £15m for this campaign is seen by many Blackburn fans as part-evidence of what they perceive to be Venky's inept running of the club.
Manager Steve Kean has also come in for abuse but it would be harsh to blame him for this defeat. Rovers simply do not have the personnel to compete with a City side who had won 17 consecutive home matches ahead of this.
It took all of Rovers' effort just to try and contain City, let alone mount attacks of their own and in 90 minutes they only threatened Joe Hart's goal twice when Morten Gamst Pedersen struck a long-range volley that deflected wide and Yakubu curled a tame shot into the keeper's hands in the second half.
Balotelli had already seen a shot from an Adam Johnson pull-back saved by Paul Robinson and a header from Pablo Zabaleta's cross go wide before he opened the scoring.
Silva found Kolarov out wide and his cross was side-footed into the far corner by the Italian striker, who revealed yet another t-shirt in celebration, this one emblazoned with 'Raffaella I love you' in Italian.
Sergio Aguero also spurned a number of chances prior to scoring the second when he failed to get enough power on a Balotelli cross and then put a shot past the far post after holding off the nudges and knocks of two Rovers defenders.
Robinson was culpable for Aguero's goal when he weakly palmed a corner into the air, allowing the Argentine to blast in from close range on the half-volley.
A minute after coming on as a replacement for Balotelli, Dzeko headed in Kolarov's cross to round off another City home win.
In 1994-95, Blackburn won the league, while City finished 17th. Both clubs would be delighted with a role-reversal this season.
Manchester City first-team coach David Platt:
"I actually thought Mario Balotelli was very disciplined in his performance and his work rate was exceptional both on and off the ball.
"His temperament was good. He can be pleased with his afternoon's work.
"All three strikers have scored all season. They are scoring goals but the team is creating them for them.
"In terms of possession you saw that we controlled the game.
"We knew we had to get off to a good start, not to let them settle into their game plan and we did that.
"We created chances and felt the goal was coming."
Blackburn Rovers manager Steve Kean:
"The games we have coming up now, Aston Villa, Bolton and Wigan - teams in and around us - mean it's going to be a massive month for us.
"We have no injuries today and got a couple coming back, Gael Givet and Jason Lowe from suspension, so fingers crossed lads come back from international duty fresh and fit to play.
"You know how difficult it's going to be with the depth of the (City) squad.
"It was probably close to a £400million squad with the lads on the pitch and on the bench, so they can rotate and add quality when they decide to rest people."