Niall Quinn quits Sunderland role after six years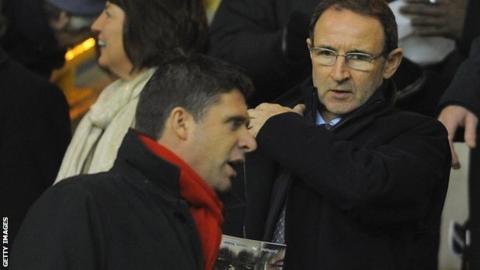 Niall Quinn has stepped down from his role as director of international development at Sunderland after six years with the club.
The club's former striker took over as chairman in 2006 before moving into his new role in October.
Quinn is now set return to Ireland to concentrate on his family and business interests outside football.
"I've had the most amazing six years," he said. "It gives me a huge sense of pride to see where the club is today."
As chairman, the former Arsenal, Manchester City and Republic of Ireland forward put together the Drumaville consortium which backed the Black Cats' return to the Barclays Premier League, before persuading American businessman Ellis Short to buy the club.
Short took over as chairman last year when Quinn stepped aside to focus on the club's business interests overseas.
Quinn departs with Sunderland ninth in the Premier League and in the quarter-finals of the FA Cup having won 10 of their 15 games since Martin O'Neill replaced Steve Bruce as manager.
"Everything is in place for Sunderland to really make a statement, which was always my aim," Quinn said.
"From a football perspective, securing the services of Martin O'Neill has been an absolute highlight. In Martin we have a man that understands the region, the club and the unique place it holds in the lives of its supporters and I am confident that he will harness the immense passion that exists here and take us to new heights."
Quinn also paid tribute to the Sunderland fans and Short, who he described as an "astute" and "passionate" owner.
Short added: "Niall Quinn is and always will be a Sunderland legend. His vision brought me into the club and that vision still inspires what we do.
"He has been a trusted friend and advisor to me throughout our time together at Sunderland and while I'm sad about his departure, I respect his view that his 'work is done'. My job is to carry on that work."
O'Neill described Quinn as an "iconic" figure at Sunderland.
He added: "Like everyone, I couldn't be more disappointed that he has decided to step down but of course I respect and understand his decision.
"He has been the heartbeat of the football club for so long and his legacy is immeasurable. To me he is 'Mr. Sunderland' - and always will be."