Bournemouth defender Stephen Purches undergoes leg operation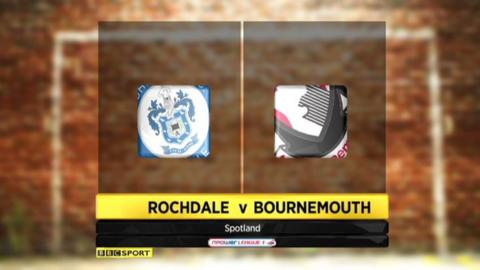 Bournemouth defender Stephen Purches has had a successful operation after suffering a double leg fracture in Saturday's 1-0 defeat by Rochdale.
Purches, 32, suffered the injury in the first half, with the club confirming he had broken his tibia and fibula.
He will return to the South Coast on Tuesday to begin his recovery and is set to be out for up to nine months.
"Stephen is totally devastated and in a lot of pain," said Cherries manager Lee Bradbury on Saturday.
Bradbury added that he had no complaints about the tackle from midfielder Jason Kennedy which caused the injury.
He said: "There's nothing there that we've looked at and thought was over the top. It was just a fair challenge that has unfortunately injured Purchy."
Meanwhile, Cherries physio Steve Hard says he is delighted with how the surgery went for Purches.
Hard told the club's official website: "The surgery went well. He has had a plate inserted and fixed with screws and he is due to be discharged on Tuesday.
"He will be in a cast for two weeks while the scars heal and then in a protective boot after that.
"He will be on crutches for a minimum of six weeks and the initial estimation for a return is six to nine months.
"I am liaising with a surgeon in Bournemouth, who will be taking over his rehabilitation."