Rhys Williams renews Middlesbrough contract until 2016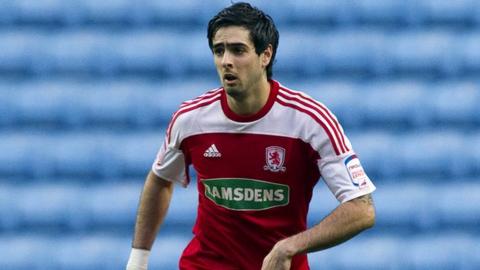 Australian international Rhys Williams has signed a four-and-a-half-year contract extension with Middlesbrough.
The 23-year-old defender has attracted interest from several Premier League clubs, but stated his desire to win promotion with Boro.
"I've always said I wanted to stay, I'm happy here and that's the main thing," he told BBC Tees.
"Everyone wants to be in the Premier League and I want to get there with this club."
Bolton had an official approach for Williams rejected on the final day of the January transfer window, and there has also been interest in the player from Newcastle and West Bromwich Albion.
"I don't see the point of going somewhere else and being a squad player when I can stay here with the lads I've grown up with and take this club up," Williams continued.
"The chairman turned down an offer for me and that has made me feel even more wanted here. After that I just wanted to get it sorted."
Williams, who can play across the defence and in the centre of the midfield, would have entered the summer heading into the final 12 months of his deal.
"Both parties tried to negotiate in October but talks broke down because, and I'm not being greedy, you've got to think about your life.
"Not that long ago I spoke to the gaffer and told him I want to get this sorted as soon as possible."
After Barry Robson announced his decision to join the Vancouver Whitecaps at the end of the season, news of Williams's contract extension is likely to be welcomed by Middlesbrough fans.
"The club committed to me by turning offers down and looking after me through injuries and seeing me through youth stages. I want to show that commitment back."