Milan praise for debutant Sulley Muntari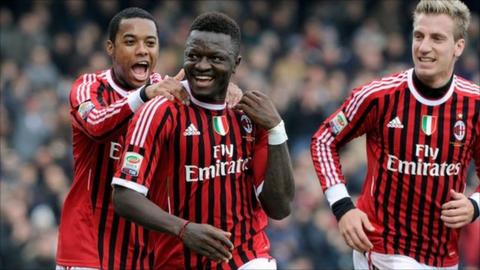 AC Milan coach Massimiliano Allegri has praised Sulley Muntari following his debut for the Italian league leaders.
The Ghanaian scored in his first match, as Milan beat Cesena 3-1 to return to the top of Serie A.
"He did well, not just with the goal but also in getting the ball forwards - we've made a great signing," said Allegri.
"I don't know why Inter weren't using him, we looked at the situation and it's a comfortable one for us."
Milan are a point clear at the top of the table, above Juventus, with the top two meeting in the San Siro on Saturday.
Muntari has joined Inter's city rivals until the end of the season, having been used sparingly by coach Claudio Ranieri this season.
The Ghanaian midfielder made his breakthrough in Italy after impressing for Udinese between 2002-2007, eventually earning a move to Portsmouth.
He won the FA Cup with the English club before joining Inter in 2008, going on to win the league, cup and Champions League under coach Jose Mourinho.
But he gradually fell out of favour, ending last season on loan to another English side - Sunderland.
When Milan picked up Muntari on transfer deadline day, Allegri opined that this was a chance for the 27-year-old to fulfil his technical and physical qualities.
"When he was at Udinese he had his best season but maybe he left too young (to go to Portsmouth)," the coach said after Sunday's victory over Cesena.
"I thought he would have a different career. Sometimes people make mistakes in the moment but you can see that the quality is there."
In addition to Muntari's goal, Dutchman Urby Emanuelson and Brazil's Robinho also netted for Milan, who thumped Arsenal in the Champions League on Wednesday.
The Ghanaian found the back of the net after 29 minutes as he poked home after Thiago Silva's free-kick had been spilled by the Cesena goalkeeper.