Geoff Brown says Rangers must survive for Scottish football's sake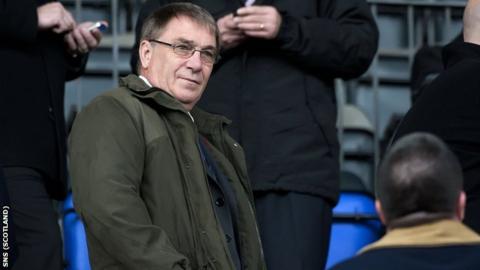 Former St Johnstone chairman Geoff Brown could see the Ibrox crisis coming but believes Rangers must recover for the sake of Scottish football.
"Rangers have to be there, as far as I'm concerned," he told BBC Scotland.
"Rangers and Celtic; a number of times I've been asked, 'you must have a leaning to this one or that?'
"I have no leaning, my leaning is towards St Johnstone Football Club and what is good for our game and what is good for our game is a strong Rangers."
Rangers appointed Duff and Phelps as administrators last week, but the company now looking after the club's finances say they are confident the Scottish champions can recover and continue in their current form.
But the threat of insolvency remains and Brown said: "Scottish football's not all about Rangers. We all need one another.
"The importance of the Old Firm to the lesser clubs is the Old Firm's buying power - their supporters coming to your ground, hospitality, your TV deal, which is based on effectively four Old Firm games.
"For that to go out, it would make life very, very difficult for Scottish football.
"You just have to adapt. The biggest losers would certainly be the quality of Scottish football.
"We wouldn't be able to afford players at all and that would probably go back to part-time and amateur, which would be sad to see.
"This year in particular, things have been a lot harder. We've got reducing gates, a reduction in sponsors, a reduction in money coming into clubs and that has to be addressed with all the clubs in the league."
However, Brown criticised the way in which clubs have used the process of administration to repair themselves.
"Unfortunately, some people seem to think that football should be different than any other business," he said.
"In any other business, you trade, you look to get a profit, you get the profit and you re-invest."
Brown, whose family business has been successful in the construction industry, stepped down as chairman of Saints in November, ending 25 years in the post.
The Perth club regained its top flight status in 2009 after suffering relegation to the First Division in 2002.
"It certainly was galling to me, relegated and spending seven years in the First Division, that, during that period of time, Motherwell, Dundee and Livingston went into administration and Gretna went into administration and complete demise," said Brown.
"We were trying our damnedest to push on and keep the books in order, keep the side in order and attempt to keep supporters happy.
"At times we got flak, probably more when Dundee were spending a lot of money, but we can understand that there have been clubs like Hearts and Aberdeen who tried to keep up with Rangers and those clubs are today heavily in debt."
Rangers' insolvency event did not come as a surprise to Brown.
"It's terrible and I certainly feel for everyone involved," he said.
"Unfortunately, any of us that have been involved could see this coming. I don't believe the present climate's helped at all, but there's no way that you could spend the money that the club has been spending.
"I was absolutely astonished when Craig Whyte was coming in and it came through the media that he was going to make £5m available to buy players.
"If that was Geoff Brown, he wouldn't be making £5m available to buy players, he'd be trying to trade at a profit and then be able to buy players.
"My background was never to borrow and the temptation of going out and borrowing and having to pay someone interest on that money was there.
"We were swayed that it was a good idea to keep your nose clean and do what you could with what you had.
"That was done, in St Johnstone's case, thanks to one heck of a lot of directors and volunteers over a long period of time.
"Yes, those temptations have been there, but I'm pleased to say that we managed to resist it."