Boss of Blackburn sponsor behind fans' trust plan to buy the club
Last updated on .From the section Football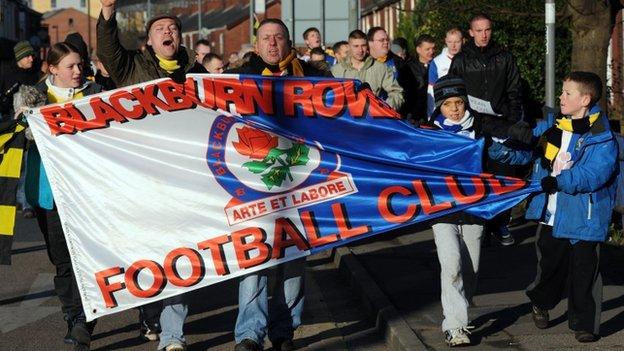 The group director of a key Blackburn Rovers sponsor is leading plans to buy the club from owners Venky's through a supporters' trust.
Wayne Wild, of the WEC Group, wants to raise £10m by selling 10,000 shares.
The proposal is being backed by the fans' group behind the protests against the owners and manager Steve Kean.
Wild told BBC Sport: "We can offer the owners a dignified exit if they decide to sell but if they decide not to, there's not a lot we can do."
Venky's, an Indian-based poultry and pharmaceutical firm, could not be contacted for comment, but have previously said they have no intention of selling the club they bought for £23m in November 2010.
Wild, whose engineering firm sponsors the Darwen End stand at Ewood Park, said the BRFC Supporters' Investment Trust could only afford Rovers if they were relegated and the club's value fell.
In an outline of his proposal, Wild says: "Do we want BRFC to be relegated? Absolutely not. We all worry what would happen to the town and club should this happen. This is a disaster plan.
"What happens if Rovers stay up? We think that the owners will not want to sell and if they did would want £30-£50m in return. If they do keep ownership then we want them to fulfil their promises and invest in the club and playing staff, re-engage with discussions with supporters and come and support the club they bought."
Shortly after the Rao family behind Venky's took charge, they sacked manager Sam Allardyce and promoted Kean from the coaching team to his first role as a manager. The club avoided relegation on the final day of last season, and have continued to struggle in the current campaign with goal difference keeping them out of the bottom three.
Fans have responded by staging repeated protests demanding Kean's sacking and questioning Venky's management of the club.
Wild himself first publicly raised concerns about Venky's in November.
"People are frightened for the very existence of the club," said Wild, who is keen to meet and start a dialogue with the club's Indian owners.
Outlining more detail on the trust plan, he added: "What happens after £10m? That is up to the shareholders. Either more funds could be raised via borrowings, share issues or more realistically by sensible and effective management of the income.
"There will be one share per supporter. There will be no large shareholders within our plan."
Wild's plan has the support of the Blackburn Rovers FC Action Group - a coalition of Blackburn supporter groups - which has been behind the demonstrations.
"The BRFC Action Group is now actively supporting alternatives to Venky's and we will put all our efforts behind the supporters' buy-out initiative being led by Wayne Wild," it said.