Ghana FA delays decision over the future of Stevanovic
Last updated on .From the section Football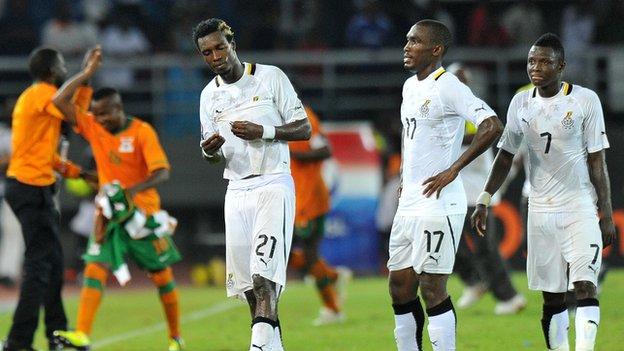 The Ghana Football Association (GFA) says it will study coach Goran Stevanovic's contract before deciding whether to keep the Serb or let him go.
The coach has been under huge pressure since the Black Stars' failure at the Africa Cup of Nations but the GFA has so far delayed making a decision.
"We will retain the coach or ask him to leave, those are the only options," GFA President Kwesi Nyantakyi told the BBC after a two day meeting, called to discuss Ghana's failure at the recent Africa Cup of Nations.
"There is no unanimity of opinion [within the GFA board]."
The delay - which Nyantakyi says is likely to be of two weeks - means that Stevanovic will be in charge when Ghana play Chile in the United States next Wednesday in a friendly international.
The GFA will use the next fortnight to canvas opinion amongst fans, officials and sponsors - and to thoroughly investigate the coach's contract.
"We have asked the legal committee to look at [the contract]," Nyantakyi said.
It has been reported - but not confirmed - that it could cost the GFA more than a million euros to buy out the remainder of the deal.
The postponement of a decision was announced at a stormy news conference in Accra - where the board and the coach came under fire from angry Ghanaian reporters.
"Anger, hostility and unfriendlieness - it's a natural reaction to what the team went through," the GFA President said.
"We are all frustrated by what happened, including me."
Despite the hostility aimed at him, Stevanovic responded to the questioning.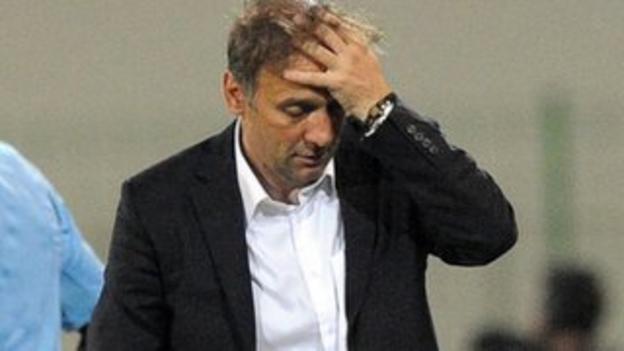 He defended the team's preparations and denied ever saying a much-quoted line, stating that he would quit if Ghana did not win the tournament.
He said he wanted to be judged on his entire time in charge of the team, rather than one match.
World Cup quarter-finalists in 2010, Ghana lost 1-0 to eventual champions Zambia in the Nations Cup semi-final on 8 February.
They were then beaten by Mali in the third-place play-off match.
The 45-year-old Stevanovic's current deal expires in January 2013, the same month as next year's Nations Cup will be held.