Arsenal set-up not modern enough says Arsenal Supporters' Trust
Last updated on .From the section Football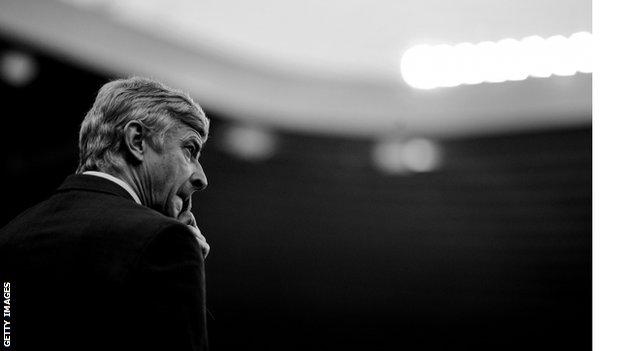 A leading group of Arsenal shareholders has questioned whether the club is "set up for the modern world".
The Arsenal Supporters' Trust has also called on American billionaire Stan Kroenke, who owns a majority stake in Arsenal, to "refresh the board".
"More infrastructure is needed around Arsene Wenger, or whoever the manager is," an AST spokesman told the BBC.
"It's a set-up dating from 1996, but without David Dein," he added referring to the club's ex-vice chairman.
Dein, who brought Wenger to Arsenal in 1996, was vice-chairman of the Gunners between 1983 and 2007, and is widely credited as being a key influence on the Frenchman during their 11 years together at the club, particularly as regards the buying and selling of players.
The AST, which published a detailed analysis of Arsenal's finances on Tuesday, is due to meet chief executive Ivan Gazidis and other senior executives on Wednesday and Friday, as part of regular meetings it holds with the Gunners heirarchy during the year.
Without a trophy since 2005, Arsenal have been knocked out of the FA Cup by Sunderland and were effectively eliminated from the Champions' League following a 4-0 first-leg defeat by AC Milan in the space of the week.
Fourth-place Arsenal, who face north London rivals Spurs in the Premier League on Sunday, are also by no means guaranteed a place in next season's Champions League, with Chelsea, Liverpool and Newcastle chasing that final slot in Europe's premier competition.
Failure to qualify for the Champions League would cost Arsenal £45m, the AST estimates, though the Gunners have around £50m to "spend or to save for a rainy day".
"Did the manager have the option to use all or some of these cash reserves in summer 2011 and January 2012, or are resources being held back as a contingency for failure to qualify for the Champions League?", it asked in an online posting.
"Our wage spend is 40% higher than the payroll at another club in north London and Arsenal are in danger of being overtaken more than temporarily by those who spend their wages more efficiently," added the AST posting, referring to Spurs' lower salary levels than Arsenal.
The AST's website says the trust has more than 850 members, many of whom are individual shareholders in Arsenal, with 4.5% of the club's equity owned by small shareholders.
Kroenke is due to attend Arsenal's monthly board meeting on Thursday.
"We think we make a constructive contribution to club policies," added the AST spokesman, citing its call for Arsenal to go on an overseas tour and its campaigning on ticket prices as evidence of its effectiveness in influencing the club's board.