SFA chief executive Stewart Regan says the Rangers crisis may change rules
Last updated on .From the section Football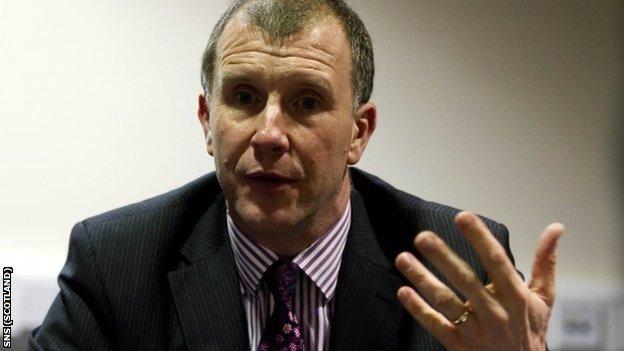 The current financial crisis at Rangers could prompt a change in the Scottish Football Association's rules, according to SFA chief executive Stewart Regan.
The SFA has appointed Lord William Nimmo Smith to chair the inquiry into the club's business activity.
"When you look back at a situation like this, hindsight is a wonderful thing," said Regan.
"I think, undoubtedly, there will be learnings coming out of this issue, learnings for all stakeholders."
Regan added: "The Scottish FA will be looking at what we can do in the future to prevent situations like this happening again.
"Certainly, we are hoping there may be issues arising out of the independent inquiry that we can take and look at building into our own articles of association for the future.
"But, at this stage, it's about establishing the facts, establishing what's gone on and deciding how we deal with it."
Rangers were forced into administration over an unpaid tax bill of £9million accrued since Craig Whyte completed his takeover of Rangers last May.
Whyte has since admitted that he sold of three years' worth of the Ibrox outfit's season ticket money to complete his takeover and the SFA wants clubs to take more responsibility over who owns and controls football clubs.
"What every club has to do at the start of the season is bind themselves into the articles of association by filling in an official return," said Regan.
Clubs are essentially saying they agree to comply with the articles of association.
"The powers that the board has under the articles are quite wide-ranging, however there are no detailed specifics relating to the ownership of football clubs.
"I know that's one area that has been raised by a number of commentators on this particular issue. That could be one of the areas that we take a look at as we go forward."
Dunfermline, Inverness, Dundee United and Hearts are all owed money by Rangers and Regan says some clubs have been in contact with the SFA since the SPL champions called in the administrators last Tuesday.
"We have received correspondence from a number of individuals, particularly clubs that haven't been paid," said Regan.
"Those matters have been taken into consideration and ourselves and the Scottish Premier League are discussing what can be done to address that matter.
"There are a number of possible routes. The Scottish Premier League have an ability to off-set against future payments.
"Equally, the Scottish FA could consider that as a course of action. We are trying to understand the scale of the matter and clearly there is a need to work with the administrators to establish the facts and understand all of the potential creditors.
"Clearly there are those who have been identified as creditors in the administrator appointment but there are those potential creditors who are coming from within football.
"Before we embark upon specific actions and decide exactly what will be done, we need to understand the facts and we are in that process at the moment.
"We've met with the administrators and they have agreed to be as totally co-operative as we require and we will be meeting them again this week to understand next steps."
Asked how concerned he is by the situation at Rangers, Regan, who helped launch plans to deliver Scotland's first National Performance Centre for sport, said: "It's a grave situation, not just for the club, but for Scottish football.
"It's hugely sad and an unedifying spectacle for the game when you have one of the biggest clubs in the country actually going into administration - in particular, some of the facts that are emerging sending shockwaves around the world as far as Scottish football is concerned.
"Undoubtedly football will continue. Football has been around for hundreds of years and will continue to be around.
"There are lessons that can learned, there will be lessons coming out of this whole episode.
"It's important for us to establish the facts before we can actually decide what action can be taken."