Balram Chainrai could lose his £17m stake in Portsmouth
Last updated on .From the section Football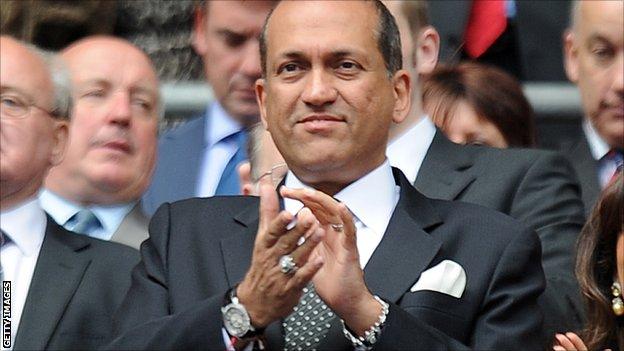 A leading insolvency expert believes Balram Chainrai may never get back the £17m that he is owed by Portsmouth FC.
The Hong-Kong businessman's hold over the club has proved to be a major obstacle for potential new owners.
That security could be devalued by the courts if administrator Trevor Birch asks for a ruling on its true worth.
"The administrator can force a sale against Mr Chainrai's wishes if he can prove to the court what the assets are worth," Carl Faulds told BBC South.
In October 2010, Chainrai became a self-confessed reluctant owner of Pompey - he had loaned the club around £17m the year before - and taken Fratton Park as security.
Protecting that investment was his priority, but South Today asked him at the time if he was the right owner.
"Me, the right owner? No. But I know the right owner is out there and we're going to find him," said Chainrai.
He did eventually find new owners - Convers Sports Initiatives - who agreed a deal to buy the club in the summer of 2011. Their main financial backer was Russian Vladimir Antonov.
But in November 2011 Antonov's bank was placed into administration in Lithuania. He was accused of asset-stripping, arrested and remains on bail pending extradition hearings.
Then, CSI - Antonov's company and Pompey's ultimate owner - was placed into administration.
Portsmouth were subsequently penalised 10 points after entering administration for the second time in three seasons.
But it also emerged that, although CSI had bought the club from Chainrai, the Hong Kong businessman still had security on the ground, and was still owed £17m through his company - Portpin - which is registered in the British Virgin Islands.
Anybody wanting to buy the club would have to address Chainrai's debt and deal with another former owner Alexandre Gaydamak - who owns the land around the ground.
"It's all very well a secured creditor being owed £17m but how much are the assets that he has security on actually worth?," added Faulds.
"And in this case I would say significantly less than the £17m so he'll only get what the assets, subject to his security, are actually worth in the open market."
Meanwhile, Pompey supporters will meet with administrator Birch on Wednesday to discuss further developments surrounding the future of the financially stricken club.