Swindon 'better' than chasing pack - Paolo di Canio
Last updated on .From the section Football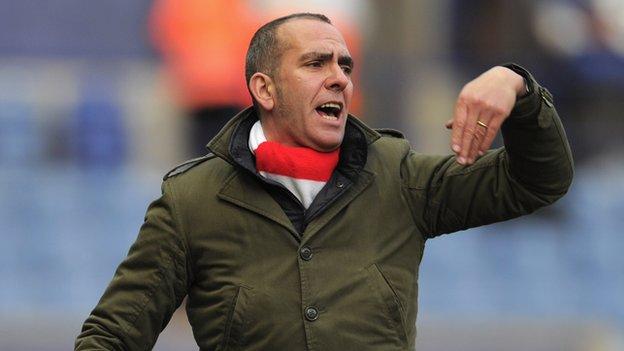 Swindon manager Paolo di Canio believes his side are 'far away better' than their League Two promotion rivals.
The Robins went top of the league with victory over Shrewsbury on Tuesday, despite a below-par first-half dispay.
"Swindon proved that they are far away from other clubs that are near the top," Di Canio told BBC wiltshire.
"I don't see any side in this league that is dominated by the opponent and then clears their brains, scores two goals and creates more clear chances."
He continued: "It's not usual even at the top of League One, it's difficult."
Di Canio hopes that his side will not lose focus after going top and will continue to play the football they have played all season.
"Now I'm curious to see if we are capable, in this situation, to go out without worries, play with more quality, without silly mistakes, and see what will happen," he said.
"If you are able to clear your brain and keep the ball better, play your football, you can win."
The former West Ham striker, who has regularly courted controversy in his first season in English football management, says that he would be happy to lose as long as his side play well.
"If you go out and play with quality, even if we lose, I will clap my hands, because it is another step forward with maturity because it is not easy to change. I am confident that they can do this - they are warriors."