St Martin ditch Sporting Club Francais
Last updated on .From the section Football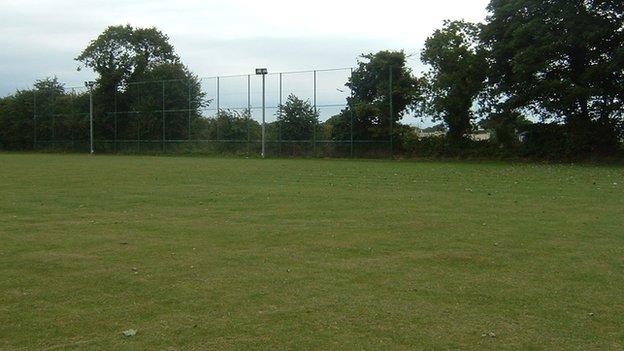 One of the oldest names in Jersey football has been lost as officials at St Martin Sporting Club Francais have decided to end their amalgamation.
The club will henceforth be known simply as St Martin, almost eight years after the two clubs merged.
The decision comes after a meeting of the club's committee.
"St Martin's had joined with Sporting Club, but unfortunately we've lost so many members from Sporting Club," said president Neville Ahier.
"We joined them to try and help them and at the time we were a bit short of players, but all the officials bar one have gone," Ahier added.
Sporting Club Francais was founded in 1925 while St Martin were formed in 1896.
The decision will have no impact on the Sporting Club Francais cricket team which will continue to play.
The club is also coming to terms with the news that they may be homeless next season.
The local Education Authority want to build a new primary school for St Martin on the site of the club's pitch.
"We are a bit concerned and we're trying to look out for something, but with the price of land it's not going to be easy," Ahier said.
"Our final game will be at the end of April against St Brelade so that could be an important match," he added.
The two clubs are locked in a battle for the title at the top of the Championship.
And Ahier feels the new St Martin's village green, which is opposite his side's pitch, could be the ideal place for them to play.
"One must not overlook the fact that on the opposite side of the parish hall there's a beautiful field there, we trained there two years ago. That would be the perfect home."
In the meantime Ahier believes an alternative could be the IJB field, which is in the neighbouring parish of St Saviour.