Franz Beckenbauer and Fifa call for more handshakes
Last updated on .From the section Football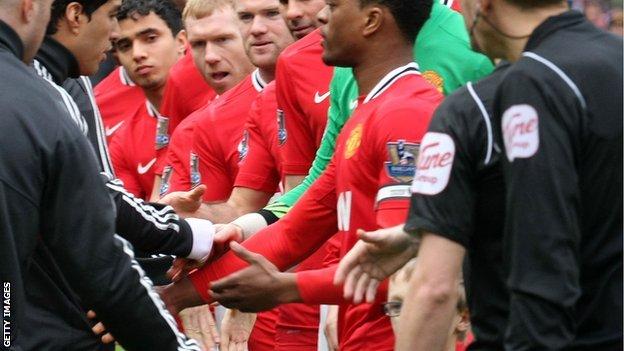 Players should shake hands in the centre circle after games, a Fifa panel chaired by Franz Beckenbauer has said.
The idea comes from Task Force Football 2014, an expert group set up to improve sportsmanship and the game's image.
The German legend said: "At full time I think it would be a better image, when leaving the pitch together and not refusing a handshake."
The panel viewed footage of various incidents, such as the 2010 World Cup final.
This issue came under the microscope recently when Liverpool forward Luis Suarez served an eight-match ban for racially abusing Evra in a Premier League encounter between the two north west rivals in October, and responded by snubbing the Manchester United defender during their clash on February 11.
Suarez has, however, since apologised for his actions.
Beckenbauer said such flashpoints should not be allowed to happen again.
Speaking about the Suarez incident, he said: "This is the first time I ever saw it myself. I think we simply have to stop it."
But Beckenbauer said players should not be disciplined for falling short of Fifa's fair play code, and the governing body should first remind players and coaches of their responsibilities.
The Task Force was created by Fifa president Sepp Blatter to improve the image of football ahead of the 2014 World Cup in Brazil.
It includes Brazil great Cafu and Kalusha Bwalya, president of the football association in Zambia - the country which won the African Cup of Nations earlier this month.
The panel were also critical of the behaviour of coaches and substitutes on the sidelines.
Bwalya noted: "Officials on the bench are the first people to get upset."
Beckenbauer suggested teams leave the field together at half-time and emerge for the second half together, as well as gather in the centre circle after the final whistle.
"That is what we used to do when I was at school," he added. "I believe one should leave the pitch the same way one has entered the pitch.''