Ex-Portsmouth owner Vladimir Antonov defends Portsmouth reign
By Matt Slater
Sports news reporter
Last updated on .From the section Football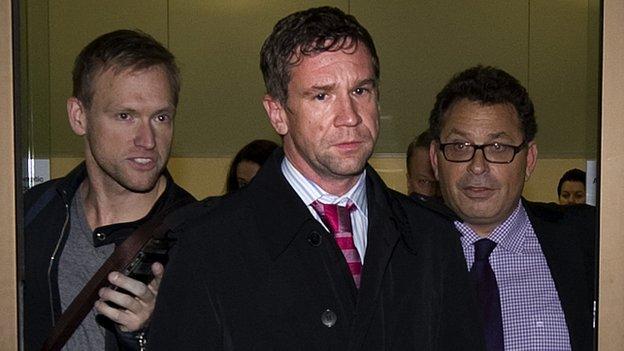 Former Portsmouth owner Vladimir Antonov has defended his time at the administration-hit club, blaming his troubles on the Lithuanian government.
"CSI was a healthy business until the illegal seizure of [Bankas] Snoras by the government," his spokesman said.
Invited to respond, the Lithuanian government declined to comment.
Pompey entered administration in February, CSI having gone into administration in November 2011.
Antonov's spokesman added: "All Portsmouth's financial obligations were met in full up to the point when administrators were appointed [at CSI] in December 2011.
"No complaints were made to the Football League about the management of the club during the time in which Mr Antonov was in control."
Thirty-six-year-old Antonov, who is in London fighting extradition to Lithuania on asset-stripping charges, also said he will sue the Lithuanian government and clear his name.
Last week, the BBC reported that an employee at the Football League had told a concerned Portsmouth fan via email that Antonov had "at best" misled them at the time of his takeover in June 2011 and at worst had committed fraud.
The League has since moved back from that unusually frank opinion, saying: "At all times following its takeover of Portsmouth, CSI and, in particular, Vladimir Antonov, complied with the requirements of the Owners' and Directors' Test as set out in the regulations of the Football League."
While this "clarification" may come as some solace to Antonov and his advisors, it will do little for fans of the beleaguered Championship club, who have now been docked 10 points for entering administration, less than two years after they were hit with a nine-point penalty by the Premier League for taking the same measure in 2010 when faced with debts of £135m.
The human cost of these financial problems became clear on Wednesday when the club's administrator, Trevor Birch, was forced to make 30 members of staff redundant, including the chief executive David Lampitt.
Other members of staff have been reduced to part-time roles and many employees, including the players, have been asked to defer their wages.
In a damning indictment of the situation he has found at the club, Birch said: "To put it bluntly, Portsmouth Football Club has a Premier League cost base but only Championship income.
"This is not a sustainable situation and one that needs to be addressed urgently if the club is to continue to exist. As things stand, there is a serious risk the club could run out of cash within the next couple of months."
This will come as a shock to those who remember the promises made about living within one's means when the 2008 FA Cup winners were last in this predicament.
But it seems Pompey's senior management did try to run the club on a tight budget between leaving administration in October 2010 and Antonov taking over eight months later.
However, this plan, which was underpinned by the Premier League's generous parachute payments of £48m over four years, was revised when CSI loaned the club £10.8m.
Asked about this loan this week, Antonov told the BBC it was "simply impossible" for Portsmouth to stay within its means and "satisfy supporters' expectations".
This admission will come as no surprise to critics of the unsustainable spending that so many clubs indulge in, particularly in the Championship, where many spend almost their entire turnover on wages.
Antonov said the £10.8m injection was a "standard shareholder loan, based on current market conditions" and it was unsecured against any of the club's assets. The intention was that it would provide funds for new players and ground improvements.
Antonov is adamant Pompey were in a good shape until the Lithuanian authorities moved against Snoras, an action he believes was politically motivated.
He also rejects claims that Portsmouth would have been unable to meet the requirements of the deal it struck with its creditors in 2010 - a 20p-in-the-pound settlement starting in April.
"With CSI's commitment and our own cash flow, we had more than enough money to satisfy [the company voluntary arrangement]," he said.
Repayment of those debts, however, is now on hold again, as Birch tries to steer the club to the end of the season and find a new owner with less vulnerable resources.