Celtic manager Neil Lennon to push Anthony Stokes' cap case
Last updated on .From the section Football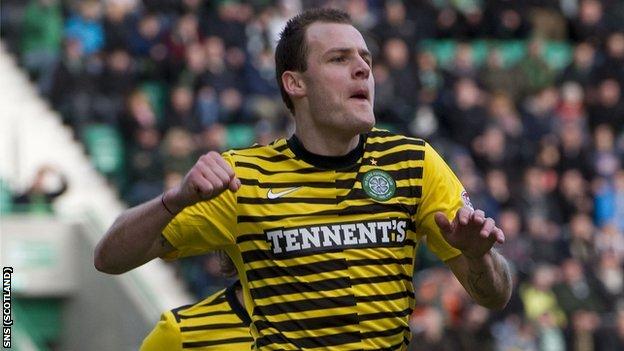 Celtic manager Neil Lennon will consider talking to Liam Brady to strengthen Anthony Stokes' chances of Republic of Ireland inclusion.
Stokes, who has four caps, has scored 18 goals this season in Lennon's side.
Brady, one of Lennon's predecessors in Glasgow, was formerly assistant to Republic manager Giovanni Trapattoni.
"He's definitely got the talent. Now he's really applying himself. He could be a little bonus for the Irish team," Lennon said of 23-year-old Stokes.
"Leon Best is out for a while now and Kevin Doyle and Shane Long have had injury problems and [Simon] Cox hasn't played regularly.
"Anthony's played 30-odd games this season, scored 18 goals and scored in Europe, scored in big games for the club.
"He's played at a consistent level now for the best part of two years.
"I've had no real feedback from Ireland at the minute on what they think of the situation.
"I'd love to speak to Liam on a number of things."
Stokes has fallen out of favour with Trapattoni since pulling out of the Carling Nations Cup in May and has again been overlooked by Trapattoni for next week's friendly with the Czech Republic.
Asked if he would speak to the national manager directly, Lennon replied: "I don't know if it would do any good, but if the opportunity was there to speak to him and say, 'I've got a player here, he's playing at a very, very high level',
"He has got goals in him. He's scored goals throughout all his career. He's never really had a home, but we're hoping this is going to be his home for the next three or four years."
Former Celtic goalkeeper Pat Bonner has had a role with the Football Association of Ireland and is familiar with Stokes.
"The one thing about Anthony Stokes, his fault over the years when he was younger was that he didn't do the bit off the ball, especially the hard grind of closing people down," he told BBC Radio Scotland's Sportsound programme.
"If you're playing off the front foot and you're doing that then the rest of it will come to you.
"Anthony had a realy habit of switching off when he lost the ball. That has been the big change in his game now and he's learned from the other players around about him.
"Neil Lennon gets great credit for maybe changing that within his game and, if he keeps doing that, maybe Giovanni Trapattoni will pick him, who knows?"