Portsmouth may not have enough money to finish season
Last updated on .From the section Football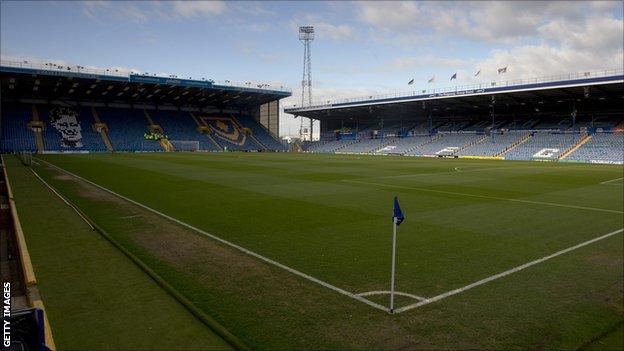 Portsmouth administrator Trevor Birch has admitted the club may not have enough money to see out the season.
Birch addressed fans for an hour at Fratton Park on Wednesday, a day when 30 members of staff were made redundant.
However, he says he was left with little choice but to make cuts as he tries to ensure the club's remaining money lasts as long as possible.
"We are struggling to make the end of the season," Birch told BBC Solent.
Portsmouth entered administration last week for the second time in three years, for which they were docked 10 points by the Football League to leave them in the Championship relegation zone.
Players and staff have not been paid since December, and chief executive David Lampitt was made redundant on Wednesday along with other senior members of staff.
Birch also revealed that he will meet with a players' representative on Thursday and the squad will be asked to defer some of their wages until the end of the season.
Pompey's administrator also told fans he will make the decision over whom the club is sold to - rather than major creditor Balram Chainrai, who is owed £17m.
He hopes Wednesday's redundancies will be the last at the club.
"It was a purely economic decision that we had to make," Birch said.
"We have a very small amount of money that we have to stretch out for the rest of the season and David and his fellow directors have joined with other redundancies that we have had to make.
"I feel sorry for them as they have all worked so hard over the past few months in difficult circumstances, but we have to try and get to the end of the season.
"That's it now in terms of the redundancies. We don't expect any more; we do it in one fell swoop and hopefully that will take us through to the end of the season."
Pompey's squad is thinning by the week with injuries also limiting manager Michael Appleton's options, and Birch revealed that the Football League will not allow them to bring new players in.
"The cash available is worse than we first feared," said Birch.
"Some of the bits of assumptions that were made in terms of income to take us forward we've now taken a more conservative view on that. We've got to conserve the cash to make sure it takes us through to the end of the season.
"The Football League will not let us bring any players in and they don't want us to have a competitive advantage when we still owe clubs money.
"If we have less than 14 fit players then they will allow us to bring someone in."
Birch is open to the idea of a fans consortium buying the stricken club, adding: "We won't rule out at all a supporters trust buying the club if that is the best game in town and certainly we will look at it. They can bid on their own or along with another interested party."