Guernsey FC boss Tony Vance praises players' fitness
Last updated on .From the section Football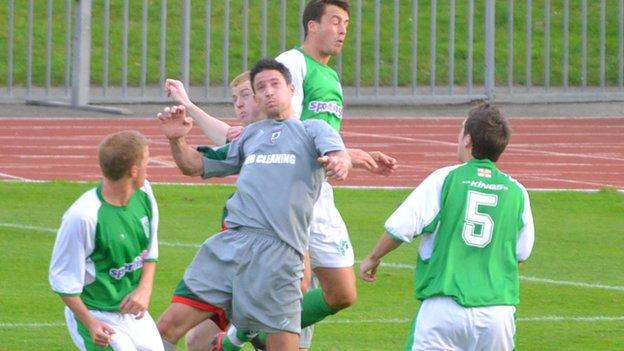 Guernsey FC boss Tony Vance claims fitness is one of the reasons why they are running away with the Combined Counties League Division One.
The Green Lions are 13 points clear and have won their last five matches.
"We've got good ability, but beside that if people watched our training sessions we work very, very hard," Vance told BBC Guernsey.
And Vance says his team are focussed on keeping fit outside of the training sessions he puts on for his squad.
"The guys look after themselves out of training, eating and drinking the right things at the right times, going for runs and even doing yoga.
"We're fairly fit and strong and I think that's down to the preparation."
Vance claims his side often out-run their opponents as matches wear on.
"The first 20 or 30 minutes is always very competitive.
"Then the tempo we play at will hopefully keep going for 90 minutes and you see towards the end that most teams in this league aren't as fit as us.
"Even when we played Egham Town who are in the Premier Division we were fitter than them at the end which was nice to see and shows that we're doing something right."