Reading chairman Madejski confident Brian McDermott would stay
Last updated on .From the section Football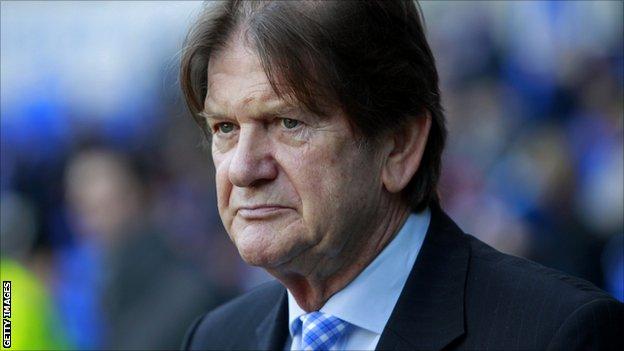 Reading chairman Sir John Madejski says he was always confident manager Brian McDermott would stay at the club.
McDermott was linked with the vacant managerial post at Wolves before signing a new contract this week.
Madejski said there was never any official contact between the two clubs.
"Brian has been very loyal to the club and if I'm honest I don't think he was ever going to leave because he has been with me for 17 years," Madejski told BBC Radio Berkshire.
"What Brian has achieved at the club has been nothing short of incredible.
McDermott signed a new deal on Wednesday to keep him at the Madejski Stadium until 2015. Madejski revealed talks between McDermott and the club's new owner Anton Zingarevich over a new deal had been ongoing for three weeks.
He also said the conversations between the pair were about more than just money and convinced McDermott the club are heading in the right direction after years of having to sell their best players.
"One of Anton Zingarevich's main priorities when he came to the club was to secure the manager's long term future with Reading and he already had this conversation with Brian before Mick McCarthy even left Wolves," said Madejski
"I'm delighted we've been able to resolve the situation and that Bryan is going to stay with us until 2015.
"I would think the conversation was more personal than just about money. I think Brian is the type of guy who would want the endorsement of the new owners and that is why I took Bryan with me to Milan when we first met Anton."
Madejski said there was never any official contact between Reading and Wolves about McDermott and that he feels the new owner can help finance the club back into the Premier League.
"The good news is that when the new owners eventually take over the club in March they will keep the same ethos at the club and will not destroy what we have built up over the past 20 years and will instead improve on what we have done," he said.
He added: "Of course I feel we are heading back to the Premier League if not this season then next, as we have everything we need now.
"The important thing that was lacking was being able to sustain a squad that was capable of getting to the promised land."