Andre Villas-Boas admits he is to blame for Chelsea slump
Last updated on .From the section Football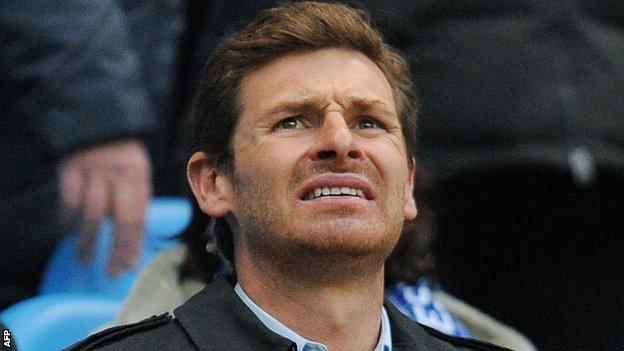 Chelsea manager Andre Villas-Boas has spared his players any blame for the team's fortunes, taking responsibility after their 3-1 defeat at Napoli.
He added that he does not need players' backing as they try to recover from the Champions League first-leg loss.
Villas-Boas said: "Players don't have to take responsibility - and they shouldn't have to take it.
"They are top players and they know what they can do. But there is only one person responsible - which is me."
Frank Lampard, Michael Essien and Ashley Cole were controversially left out at Napoli. Villas-Boas said he does not expect his omitted players to be "jumping up and down with excitement".
He added: "The club is more important than any individual. Full backing or part backing or whatever backing doesn't really matter."
The former Porto manager admitted that owner Roman Abramovich questioned his team selection after the Napoli defeat.
Villas-Boas added: "I've spoken to the people near to him. Obviously he is disappointed with the result and asking questions about how we set up the team, which were duly explained.
"There is still 90 minutes to play and we strongly believe we can turn the tie around. I don't have any regrets regarding team selection."
The Chelsea boss, who has won just four of his last 14 games, denied reports that Cole had questioned his tactics.
Asked if he has made any mistakes as manager of the London club, he replied: "I've made a lot of mistakes. At the moment, I think I've made 13 mistakes - seven draws and six defeats."
But Villas-Boas still has high hopes for his team in the Premier League, saying: "The objective is to limit the damage and to get fourth position, maybe third eventually.
"If Arsenal win at Tottenham and we win, we are only seven points behind with one game against them [Tottenham] to play."