Off The Bawl - 19 February
Last updated on .From the section Football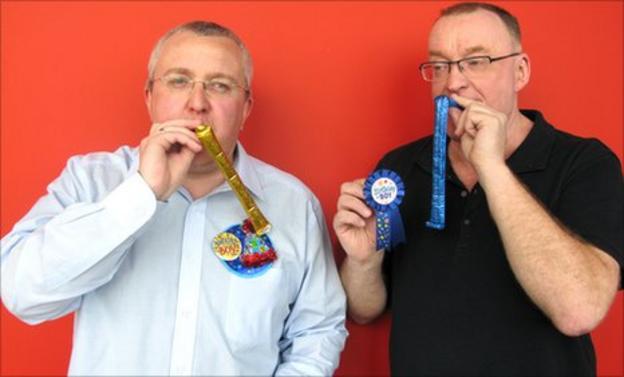 Greeeeeetings!!! Our guests on Saturday were former Hearts boss Jim Jeffries and Taggart star Alex Norton (aka DCI Matt Burke)
"Did Alex use a body double for his nude sex scene in The Crow Road?" emailed Al.
The answer was "no" and, coincidentally, the very next listener who got in touch (to remind Alex his partner in the nudie scene was Stella Gonet) was Doug from - wait for it - Insch!
Nae offence, Alex...
And what about Jim Jeffries? Did he ever film a sex scene? JJ just shook his head, but Danny from Leith disagreed. He said: "Hang on, I saw him getting humped 7-0 by Hibs in 1973!"
Saturday's talking points? Well, we covered everything from the best Rangers text jokes to pregnancy cravings and TV tecs to famous chairs. And our Team of the Week was one to really sing about - The Musicals XI.
Here's another selection of the most petty and ill-informed texts and emails on radio...
THE BEST GERS JOKES
Rangers have just announced a new deal with Sky. All their games will now be shown on The History Channel (Ian Scott)
The first redundancies have been announced at Ibrox - two referees and four linesmen (Barry Gordon)
Betting was suspended on today's game at Ibrox after a strange-looking guy in a grey suit walked into Ladbrokes and put £24m on Kilmarnock (Gary Henderson)
The SPL have announced there will be two minutes of laughter before all games this weekend (Kevin, Bowmore)
The bookies have installed Rangers as even money favourites for the league next year. Montrose are second best at 7/2 (Jinty Thompson)
Broxi Bear has just changed his first name by deed poll to Thread (Alan, Rangers fan)
Kids from Yorkhill Hospital have just visited Ibrox in a bid to cheer the players up (Steve King)
TV DETECTIVES - WHO DO THEY REALLY SUPPORT?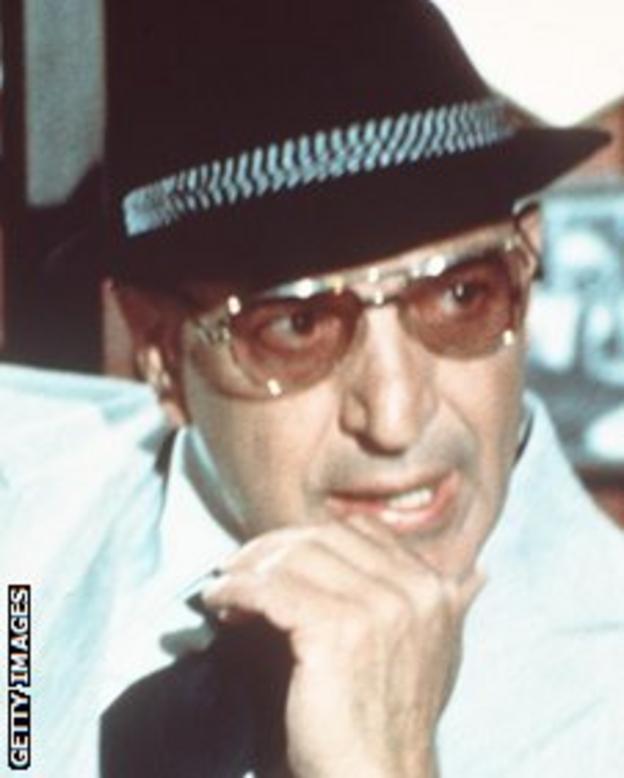 Petrocelli: spent a lot of time in a caravan, so probably a big fan of Andy Goram (Billy Duncan)
Eddie Shoestring: with a surname like that, it can only be Rangers (Tom Smith)
Simon Templar: The Saints (Garry in Perth)
Kojak: Rangers - both of them ran out of lollies (Jimmy the postman)
Cagney and Lacey: Aberdeen and Dundee Utd - only popular in the 1980s (Matthew Cotter, Glasgow)
WEIRD CRAVINGS
Paul Cowan from Glasgow said: "My sister used to sniff black Kiwi shoe polish when she was pregnant."
Abi the Hibby in Auchtermuchty said: "A craving of mine before my first kid was a sandwich with gherkins and Marmite - yummy!!!"
Jane Crawford in Lossiemouth said: "I craved hot orange juice with nutmeg - I believe that was also a favourite with Ray Clemence's wife!"
Scott Riach in Inverness said: "When I discovered I was going to be a dad, I had a craving for a one-way ticket to Australia."
FAVOURITE CHAIRS
Jim Murdoch said: "What about the chair in THAT Christine Keeler photo?!?"
Gerry said: "What about Val Doonican's chair? Famous and timeless."
George Docherty in Edinburgh said: "How about the chairs that farted in CJ's office in Reggie Perrin? Also, the chair belonging to Frasier's dad that was the bane of his life."
Phil from Glasgow said: "What about Old Sparky, the electric chair? On its way to a castle in Granton-on-Spey anytime now..."
Linda Crawford said: "More of a stool than a chair, but what about Dave Allen's?"
TEAM OF THE WEEK
The Musicals XI
(aka Queen Of The South Pacific - The Brigadoonhamers)
Stadium: Aspects Of Love Street
Manager: Hairspray Wilkins
Assistant: Seven Joe McBrides For Seven Brothers
Pundit: The Jimmy Hills Are Alive With The Sound Of Music
1/ Annie Get Your Bryan Gunn
2/ Tommy Ringing In The Rain (c)
3/ Michael Ball
4/ Mamma Miodrag Krivokapic
5/ Marvin Andrews Lloyd Webber
6/ Davie Weir Will Rock You
7/ The Wizard Of Ozzy Ardiles
8/ The King And Eyal Berkovic
9/ Eoin Chess
10/ Guys And Thomas Dolls
11/ Momo Sylla Queen Of The Desert
Subs: Les Fridgeables, West Side Story Andre Flo, Henrik Ojamma (aka Showboat)
AND FINALLY...
A query from Jim in Netherlee. If they did a film version last week's Your Call presented by Jim Traynor and Chick Young live from Ibrox, would it be called The Silence Of The Succulent Lambs...?
PS. The song that played us out? As requested by 60,000 listeners in the east end of Glasgow, we finished the show with The Beatles and - yep - Taxman...
To join in the fun on this Saturday's show, call 0500 929500, text 80295 or email offtheball@bbc.co.uk
Listen to the most recent Off the Ball programmes.
Download the latest Off the Ball podcast.