Peter Whittingham swayed to stay by Malky Mackay's ambition
Last updated on .From the section Football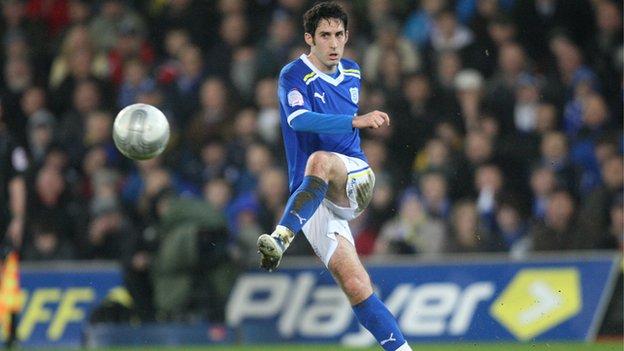 Peter Whittingham dismissed thoughts of joining Cardiff City's summer exodus after being reassured by manager Malky Mackay about the club's ambitions.
Mackay arrived in Cardiff last June as 12 players left following the club's Championship play-off failure.
"There were always a couple of offers kicking about," said Whittingham before Sunday's Carling Cup final.
"But once I spoke to the manager I was happy here and thought 'let's give it a go'."
Eight months since his appointment, Mackay has impressed his new employers to such a degree that he has been awarded with a new three-and-a-half-year contract.
As well as booking a Wembley appearance in Sunday's final with Liverpool, Cardiff are fifth in the Championship table, six points behind second-placed Southampton.
But the season began amid the backdrop of a several departures following successive promotion failures under predecessor Dave Jones.
Whittingham says seeing Craig Bellamy's loan deal coming to an end, and the loss of Jay Bothroyd and Michael Chopra leave left him wondering about his own future.
"It's always going to make you think 'well, what's going on?'," said the highly-rated 27-year-old midfielder.
"It was always going to be a little bit weird, but once I spoke to the manager he reassured me that we were going for it again and that's all I needed.
"Nothing really happened because I wanted to speak to the manager about the whole thing and once I did, that was that, I decided to stay.
"It was always going to be a hard season for us with what he [Mackay] inherited, but you look at the people he's got in and they've done so well for us.
"We've not got the same household names, so to speak, as we did last year, but they've probably had more of an impact for us.
"They've done remarkably well and I think the whole team has gelled as a whole."
Whittingham, who signed a contract extension in August 2011, says Mackay's desire to drive egos out of the Bluebirds' dressing room has also paid dividends.
"You probably could say that [there are fewer egos this season]," he said.
"You'd have to speak to the manager and stuff like that, but I feel as though the squad's definitely closer together.
"I don't think there's as many, maybe, cliques as there were and stuff like that.
"So I think you can tell by it on the pitch how close we are together and how close-knit we are."
The former Aston Villa, Burnley and Derby County player says Liverpool should be too good for Cardiff in Sunday's Carling Cup final, but the one-off nature of the occasion could help the Championship club spring a surprise.
And that would leave Whittingham and his team-mates with much better memories of Wembley than their 2010 Championship play-off final defeat by Blackpool. or the 2008 FA Cup final disappointment against Portsmouth.
"It's a massive game for us against a Liverpool team that on the day should beat us," he said.
"But we know it's a one-off game. It's not a Carling Cup semi-final or it's two legs and you've got more of a chance.
"It's one leg and one which we are looking forward to and one we think we can upset the odds.
"I've had more downs than ups [at Wembley] so to go and do one on Sunday would be massive for us."