Gordon Smith leaves Rangers' director of football post
Last updated on .From the section Football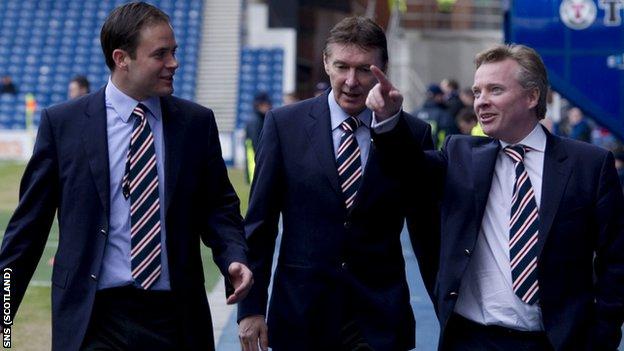 Rangers director of football Gordon Smith has parted company with the club.
Smith and chief operating officer Ali Russell, who were both appointed by former chairman Craig Whyte, are the first staff to leave after the Ibrox club entered administration.
"Like my transfer in 1980, my leaving at this time comes as a tremendous wrench," said former player Smith.
"But I was very frustrated as I was unable to fulfil the job specification which was originally outlined for me."
Decisions regarding staffing in all other departments will not be taken until next week.
Whyte appointed Smith and Russell, a former QPR commercial director and deputy managing director, in June 2011.
Smith, who starred for the Ibrox club for a three-year spell from 1977, last held the position of Scottish Football Association chief executive.
"It was a great thrill to be offered the director of football role at Rangers. As a fan it was a wonderful experience to play such a big part in our treble winning season of 77/78," said Smith.
"I was brought in by Craig Whyte but because his control and reputation has been damaged by recent disclosures, I feel my own position has been undermined by association."
Smith went on to outline the frustration he felt at working alongside Whyte.
"(My job)... was to control the major aspects of the football department outwith the first team operations. These were to include recruitment, scouting, transfer negotiations and youth development.
"I wasn't in control of any of these activities despite constantly making it clear to Craig Whyte that this was to be my remit.
"I outlined my medium to long-term strategies for the club on numerous occasions to no avail.
"There's no point in being a director of football unless you can control these areas, so, in that respect I'm totally comfortable with being made redundant at this time."
Duff and Phelps, the administrators of Rangers, said Smith and Russell had agreed to remain in post until the end of the month.
"It is clearly understood by all, including the players, that the football department costs will come under review as is the case with all departments within the business," said administrator Paul Clark.
The departing Russell said: "It has been a great honour to have worked for Rangers. I only wish the circumstances could have been better. I would like to offer special thanks to Ally McCoist and Gordon Smith who have been tremendous throughout all of this.
"This is a difficult time for Rangers and I hope my departure will help others keep their jobs."