Botswana's Dipsy Selolwane confirms international exit
By Mtokozisi Dube
BBC Sport, Gaborone
Last updated on .From the section Football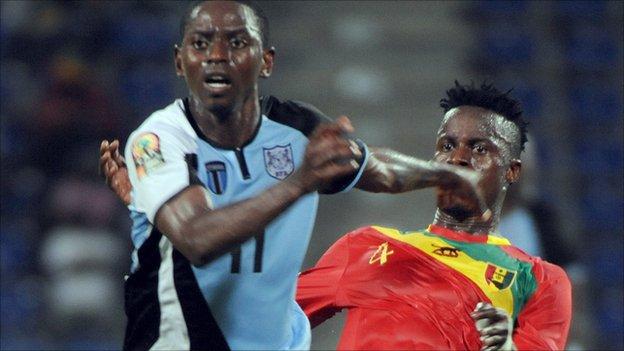 Botswana's striker Diphetogo 'Dipsy' Selolwane has confirmed his retirement from international football.
Selolwane scored his 16th international goal during his country's Africa Cup of Nations campaign earlier this year.
"I am honoured to be part of the generation that qualified for our first ever African Nations Cup finals," Selolwane said.
The SuperSport United striker cited club commitments as his reason for hanging up his Zebras' boots.
He is also known to be unhappy with the way the Botswana Football Association (BFA) handled the issue of bonues and payments for the country's Nations Cup debut.
But the 34-year old's statement made no mention of that controversy - preferring to concentrate on his pride in his achievements on the pitch.
"I have played football at all national team levels and I feel I have served my country well," Selolwane said.
"It is time to focus on my club since I have [only] a few years left in the game."
Selolwane admitted it was a tough decision to make, having had his first taste of international football 18 years ago as a U17 player.
"I felt it was prudent and appropriate that I bid farewell to all my supporters, my fellow players, coaches and managers - who I will miss in a big way," his statement read.
"I also believe it is appropriate to thank all those who made any contributions to my football development no matter how small."
Selolwane is his country's record goalscorer and the only Botswana star to have played in Europe - having had a brief spell in Denmark.
He said although he was finishing his international playing career, he still intended to be involved with Botswana football.
"Although I have retired from international football, I am currently working on some projects on football development in Botswana, so that I could plough back some of the knowledge and experience that I have amassed in football over the years," the player said.
In the meantime, Selolwane will be expected to play a pivotal role for SuperSport as they chase the South African Premiership title.
The former champions are currently three points behind leaders Mamelodi Sundowns with 13 games left in the season.