Rangers administrators have not asked Ally McCoist to cut squad
Last updated on .From the section Football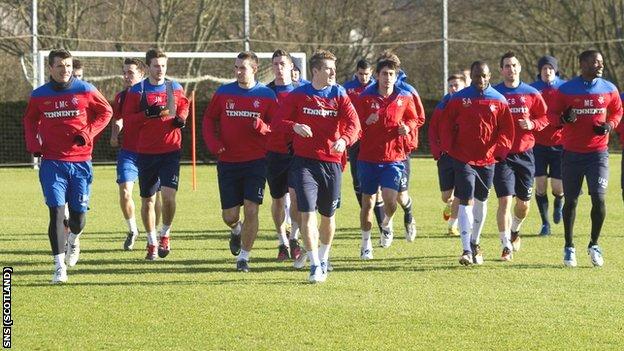 Rangers manager Ally McCoist has not been asked to select players for redundancy by the club's administrators, Duff and Phelps.
And the Ibrox boss says there have been no discussions yet on a timetable for job losses, .
"Rangers are a big family and I'm sorry to see anyone lose their job," said McCoist of Gordon Smith and Ali Russell's imminent departure.
"Both were very supportive to me."
Former player Smith, who was the club's director of football, and Russell, the chief operations officer, were the first two high-profile casualties of the cost-cutting necessitated by administration.
"Ali and Gordon have always given this club their best," added McCoist. "The fact they are continuing to help the club today says a lot about them as men."
The duo will stay in post until the end of the month.
Fraser Wishart, chief executive of PFA Scotland, visited Murray Park on Friday to speak to the players and offer advice on the administration process.
The Rangers manager said he was still positive about the club's future and was encouraged by the prospect of supporter involvement in one possible takeover bid, that being mooted by former director Paul Murray.
McCoist, in his first season in charge of team affairs since taking over from Walter Smith last summer, told reporters at Murray Park that he has asked the administrators what has happened to Rangers' cash and that he felt they did their best to provide him with answers.
The club slid into administration on 14 February under chairman Craig Whyte over a £9m unpaid tax bill for VAT and PAYE.
Since then administrators Paul Clark and David Whitehouse have been attempting to establish the club's cashflow since Whyte's takeover in May 2011 and the extent of losses, debts and running costs.
On Thursday, BBC Scotland learned that the amount of tax owed to HMRC was more than £13m.
In addition, the club awaits the decision of a first-tier tribunal on its dispute with HMRC over the use of Employee Benefit Trusts, which could land the Ibrox club a £49m bill.
There had been concerns that Rangers would be unable to host further matches this season as they might struggle to meet the bill from Strathclyde Police.
However, a statement from the force on Friday said they have "an excellent relationship with the administrators, and we currently do not foresee any problems policing future matches at Ibrox".
McCoist says he has not spoken to Whyte in two weeks.
Asked about the revelation that the owner had sold future season ticket revenue to Ticketus before the deal to buy the club from Sir David Murray had gone through, the manager said: "My reaction was shock but not surprise.
"Shock because it's obviously not a good situation but I would have to say not a surprise because all the journalists and newspapers were heading in that direction.
"That kind of took the surprise element away but it was still a little bit of a shock that was the case.
"Until I speak to him I'll keep my counsel. I have a job to do here at Rangers and that's the most important thing."
Rangers will not be pursuing the signing of Gabon international striker Daniel Cousin for the remainder of the season. The SPL had blocked the player's resignation, the processing of which straddled Rangers' fall into administration.
And McCoist's forward options have been further limited by Kyle Lafferty's continued absence with a hamstring tear. The Northern Irish striker could be out of action for another six weeks.
In that time, Rangers must match the challenge posed by third-place Motherwell, who are three points behind the reigning SPL champions with 11 matches to be played.
"Motherwell are definitely putting pressure on us, that's no surprise," added McCoist.
"It's game on as everyone is fighting and scrapping for points.
"We have to accumulate as many points as we can between now and the end of the season. That's our target & it won't change."