Roberto Mancini: Title race is like 13 Champions League finals
Last updated on .From the section Football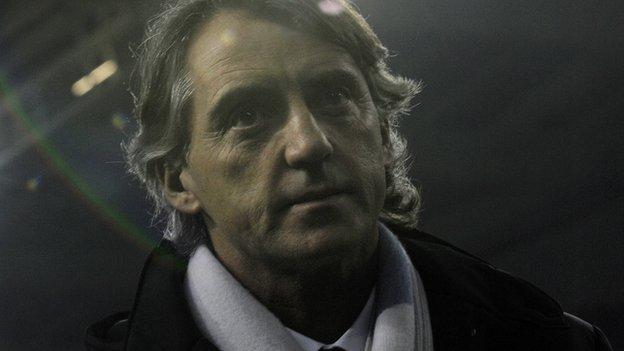 Manchester City manager Roberto Mancini has told his side to treat every game in their title run-in like a Champions League final.
City are two points clear of Manchester United at the top of the Premier League with 13 games remaining for both clubs.
Mancini said: "Every game is like a Champions League final and for this reason we need good concentration.
"Now we have a game against Blackburn on Saturday and I think every game from now until the end will be difficult."
City's title challenge is helped by the return of inspirational midfielder Yaya Toure from the African Cup of Nations.
Toure has not played in the Premier League since the victory over Liverpool on 3 January but returned last week to feature in both legs of the Europa League win over Porto.
Mancini said: "Yaya is a high-quality player, he used to play for Barcelona and he is used to playing to win every game.
"I think his mentality is very strong and that can help all the team. But we have other important players and I think it is a good mix."
The return of Carlos Tevez is another possibility for the City boss following his return from self-imposed exile in Argentina and apology for his conduct in recent months.
First-team coach David Platt said: "He still has a bit of work to do in terms of preparations before he is ready to go on to the pitch. That is probably not what people want to hear.
"There will be a clamour for a Carlos Tevez story but that is not the important thing. The important thing is Manchester City.
"We have to try and temper the clamour. It will take its own course and its own action."
Tevez has been working on his own fitness programme for the past week but will be reintegrated into first-team training in due course.
Questions were asked of City's durability in January, when they also lost at Sunderland. Yet Platt insists nobody at the club had been doubting their staying power.
He said: "What belief do we need? After two thirds of the season we sit top of the league.
"We have a group of players and a staff that believe that we can continue to do what we have done for the first two thirds of the season. If we do that, we will be hard to shift off the top."