Paul Lambert 'uneasy' in Norwich City Hall of Fame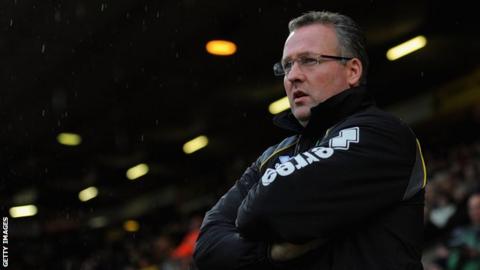 Norwich City manager Paul Lambert has admitted he does not feel comfortable with being elevated into the Canaries Hall of Fame.
The Scot, who has taken the Norfolk club from League One to the Premier League, is one of five names voted in by supporters.
"It's nice. But it's an uneasy situation," he told BBC Radio Norfolk.
"I've been here for nearly three years. Is that enough to get into something? I'm not so sure."
Lambert replaced Bryan Gunn, himself a Carrow Road Hall of Famer, as manager in the early stages of the 2009-10 campaign and immediately guided the Canaries back to the Championship.
The former Celtic midfielder followed that up by securing back-to-back promotions and leading City to the Premier League for the first time in seven seasons - and this season they have risen to eighth place after nine top-flight victories.
But Lambert is happier seeing fellow 2012 Hall of Fame inductees, and current squad members, Grant Holt, Wes Hoolahan and Adam Drury receive the recognition.
"For myself it's a bit uneasy. I don't think it's really merited although it's a great honour," he said.
"I'd rather get the current players in because their the ones who took the club from its lowest ebb.
"They're the ones that have dragged it up and the ones that deserve the recognition.
"It was slowly and surely sinking and they're the ones who have to cross that white line and have to drag it up."