Ally McCoist requires support - Neil Lennon
Last updated on .From the section Football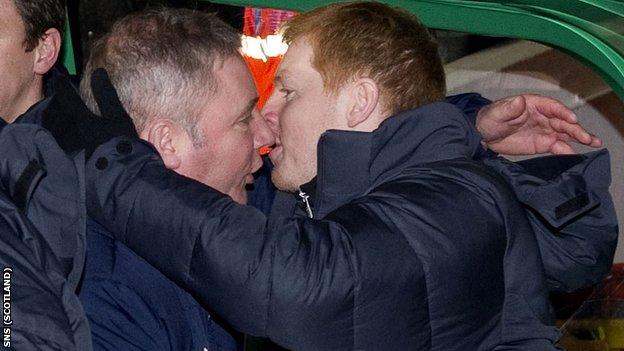 Celtic boss Neil Lennon hopes Ally McCoist has good support as the Rangers manager tries to cope with the crisis engulfing the Ibrox club.
"I can't speak for Ally but he will have to have good people around him," said Lennon.
"He needs a support mechanism, he can't do it all on his own.
"I couldn't do what I went through last season on my own, I had people around me, keeping things away from the park on the right footing."
McCoist, in his first season in the job, is dealing with the fall-out from the Scottish champions' move into administration last week.
Having incurred a 10-point penalty from the Scottish Premier League, Rangers' title challenge is effectively over and they face a race to meet financial criteria needed for European participation.
McCoist is also waiting to see if he has to help the club's administrators make cuts to the playing staff.
Last season, in his first full campaign as Celtic manager, Lennon was subject to death threats and was attacked by a fan during a game against Hearts at Tynecastle.
Ahead of Saturday's home game against Motherwell, where victory would put his side 23 points ahead of Rangers, Lennon noted that McCoist's problems "might have been a bit different to mine, to be fair".
He added: "All he can do probably is try to motivate his players as best they can and put as good a run as possible together between now and the end of the season."
Lennon then revealed that being the manager of an Old Firm club brings with it a sense of isolation, which will stop him from ever being too satisfied.
"Of course it is a lonely job because the buck stops with you," he explained.
"At the minute you are getting all the plaudits and you take them with a pinch of salt.
"You know you have gone through the rough times as well.
"The one person you have to prove something to every day is yourself.
"If you take your eye of the ball things can change very quickly and I obviously don't want that malaise to sweep through the club.
"You keep pushing the players on and that comes from me and my backroom staff."