Andrey Arshavin rejoins Zenit St Petersburg from Arsenal on loan
Last updated on .From the section Football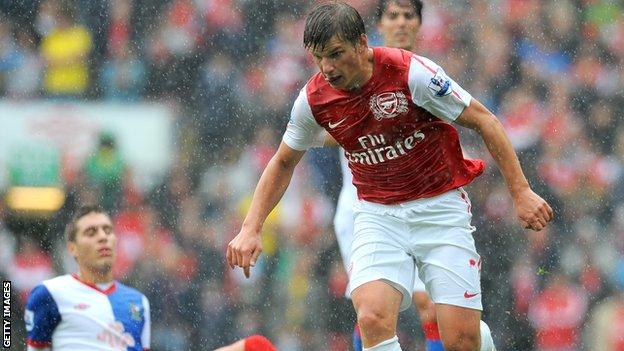 Arsenal's Andrey Arshavin has rejoined Russian side Zenit St Petersburg on loan until July.
The 30-year-old Russia international has scored just one Premier League goal this season in 19 appearances, coming on 11 times as a substitute.
The Russian captain, who has played 67 times for his country, joined Arsenal from Zenit in January 2009.
He has been the focus for criticism from some Arsenal fans frustrated at the club's see-saw form this season.
Notably, Arsenal boss Arsene Wenger had to defend his decision to replace Alex Oxlade-Chamberlain with Arshavin during a 2-1 defeat by Manchester United in January.
Arshavin, whose Arsenal contract is due to expire in 2013, confirmed the move on his official website on Friday, saying: "I've moved to Zenit on loan. Will play in number 29. All the details tomorrow."
He scored 23 goals in his 98 Premier League appearances for the Gunners and the highlight of his Arsenal career was scoring all four goals in a 4-4 draw at Liverpool in April 2009.
Arshavin also scored the winner in a 2-1 Champions League victory over Barcelona at the Emirates in February last year.