Bournemouth chairman Eddie Mitchell fined by FA over radio row
Last updated on .From the section Football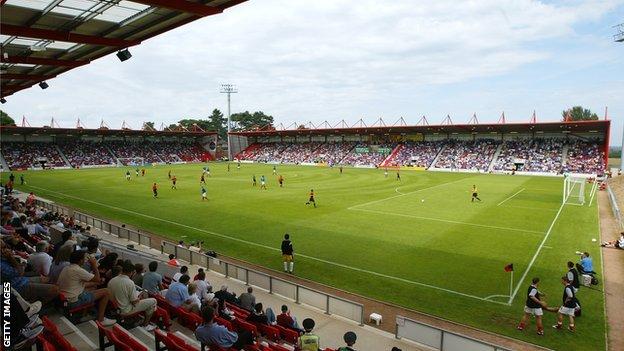 Bournemouth chairman Eddie Mitchell has been fined £1,500 for misconduct by the Football Association in relation to comments made on BBC Radio 5 Live.
The Cherries' chief was taken off air after swearing three times on the show.
Mitchell attended a personal hearing at FA headquarters on Thursday, admitting a charge of misconduct and was also warned of his future behaviour.
He previously accepted the FA's charge of using "improper language".
Chapman said after Mitchell was taken off air: "You do not come on this show, which is listened to by fans of all ages, and swear not once, not twice, but three times."
The Cherries chairman was defending his decision to allow the wife of Russian co-owner Maxim Demin to speak to the team at half-time.
"She can't speak a lot of English but wanted to wish them well," Mitchell told 606.
Demin bought a 50% stake in the League One club in November.
Mitchell explained: "My [business] partner and his wife came to the ground today. She's a very passionate person. She's not very football-intelligent but she watched the first half and asked me if she could watch the players come into the tunnel and wish them all the best.
"We were 1-0 down at half-time and she then said to me, 'Can I come into the changing room and wish them well?'.
"I invited her into the changing room at half-time and she wished the boys the best in the world.
"Bournemouth is a football club for everybody, for the supporters from the top to the bottom.
"Mr and Mrs Demin have put a lot of energy, a lot of time and a lot of hard work into this club that has got us from the brink to where we are now.
"I'm not going to deny them the opportunity to speak to the players who they indirectly employ, and pay their wages.
"We are a family club, we believe in expressing our gratitude to everybody who has got a penny or a pound to spend on this club."
Mitchell swore for the final time after Chapman asked: "Do you have the final say on who goes into the dressing room rather than the manager?"
After the incident, Chapman said: "If you're listening to the show then I apologise for language Eddie Mitchell has just used."
Later on Saturday evening, Mitchell issued a statement to BBC Sport, which read: "I apologise for my language on BBC Radio 5 live today.
"I am a passionate man and unfortunately that manifested itself in the language I used during the interview. I deeply regret any offence caused to younger listeners."