Stuart Pearce says youth is the key to England's future success
Last updated on .From the section Football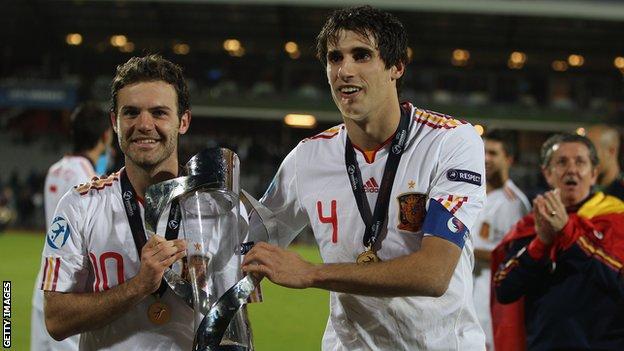 Stuart Pearce fears England will not shine on the international stage until they start to take a more serious approach to youth football.
The 49-year-old will take charge of the senior squad for Wednesday's friendly with Netherlands at Wembley.
But he is concerned that his full-time job as Under-21 coach is being held back by clubs' reluctance to allow their players to be involved.
"Our best young players should be going to [youth] tournaments," said Pearce.
England had problems persuading clubs to allow their players to take part in last summer's Under-20 World Cup in Colombia, which came just weeks after the European Under-21 Championships.
Players such as Argentina's Lionel Messi, Carlos Tevez and Spain's Cesc Fabregas all gained their first experience of international tournaments at Under-20 level.
But England flew to Colombia in August 2011 without the the likes of Manchester United's Phil Jones, Everton's Jack Rodwell and Sunderland's Connor Wickham, who were all eligible.
An inexperienced squad then crashed out at the group stage having drawn all three of their games 0-0.
Pearce said: "Our best young players should go, even if they have a clutch of senior caps and even if there is a clamour for them not to go.
"Spain turned up against us in the European Under-21 Championships last summer and, in Juan Mata and Javi Martinez, had two players with World Cup winners' medals. They as individuals wanted to go.
"We had 41 players missing from our possible Under-20s squad because the clubs pulled them out. That is unacceptable."
Pearce is also keen for this summer's Olympics to be seen as a vital opportunity for young players to gain international experience, rather than a hindrance to clubs' pre-season preparations.
The men's team at the Olympics will be coached by Pearce. It is for Under-23s, with three over-age players allowed within each 18-man squad.
Pearce added: "I have been around the country and the excitement at wanting to be part of the Olympics is off the scale - the players are really excited by it."