Liverpool 'desperate' for Carling Cup win - Dirk Kuyt
Last updated on .From the section Football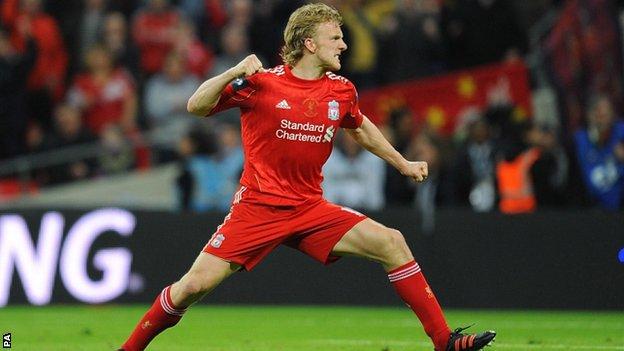 Dirk Kuyt said Liverpool had been desperate to win their first trophy since 2006 after their dramatic Carling Cup final victory over Cardiff City.
Kuyt came off the bench to score the second goal in extra-time, as the match ended 2-2 after 120 minutes, before also netting a spot-kick.
"We wanted this so desperately," said Kuyt, who has targeted a cup double.
"This is why I came to Anfield. To get my first medal is great. Hopefully we can get one more [in the FA Cup]."
Kuyt, 31, joined the club from Feyenoord in 2006 but had not won a trophy before the thrilling win.
Joe Mason opened the scoring for the Bluebirds in the first half but Martin Skrtel equalised to force extra time.
Kuyt's strike seemed certain to secure victory but Ben Turner bundled home a last-gasp goal to force spot-kicks and Anthony Gerrard missed the crucial penalty.
The Dutch international was disappointed to be left out of Kenny Dalglish's starting line-up but had no doubt that the Reds would win the shoot-out.
He added: "It was incredible, an incredible day.
"I was very disappointed not to play longer than 15 minutes but I have to put that aside. I'm so happy to have scored the goal. The most important thing was we kept believing and, in the end, I think we deserved this trophy.
"I said to Steven [Gerrard] after he missed, there's a few more to take and others can miss and they did.
"I knew I had to score my penalty or else it was all over and that's what I did.
"I have lots of respect for the manager, the team, the supporters. Cardiff deserved more but we wanted this trophy so desperately."
Winger Stewart Downing was named man of the match after a bright display down the left wing.
The England international came close to scoring on several occasions but did find the net with his penalty kick.
"We made hard work of it," Downing told BBC Sport.
"It was a tough game but credit to us. I thought we had won it with Dirk's goal but they never gave up.
"It's a cruel way to lose. We've got a great goalkeeper in Pepe Reina.
"I was confident [for my penalty]. I picked my spot and luckily it went in. Cardiff were very good. We knew it was going to be tough.
"People expected us to win three or four-nil but that wasn't the case."
Liverpool captain Steven Gerrard saw his penalty brilliantly saved by Tom Heaton but then saw his cousin Anthony - a childhood Liverpool fan - miss the final kick to give Liverpool the win.
"It's always cruel when it goes to penalties," Steven Gerrard said.
"There has to be a loser but Cardiff were superb today.
"One of Anthony or I was going to be sad, one was going to be celebrating. It happens. I've got mixed emotions at the moment because I feel for Anthony and Cardiff."