Portsmouth administrator Trevor Birch thanks fans
Last updated on .From the section Football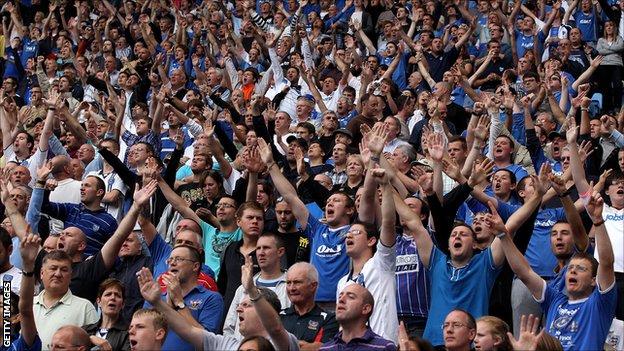 Portsmouth administrator Trevor Birch has thanked the thousands of fans who came to support the troubled club at Fratton Park on Saturday.
Around 17,500 people attended the 0-0 draw against Leeds which was the club's third highest attendance this season.
Pompey remain in the relegation places following their 10-point penalty as the search for a new owner continues.
"I want to thank every Portsmouth fan that came to the Leeds match," said Birch in a statement to BBC South.
Supporters are trying to boost the numbers of fans in the stands to help save the club, who entered administration for the second time in three years earlier this month.
Players and staff have not been paid since December, while manager Michael Appleton's squad have also agreed to defer part of their wages until the end of the season.
Birch said feedback on the decision to reduce ticket prices and scrap the admin fee had been positive and the club will look at doing the same thing for Saturday's game against Middlesbrough.
"I've been to enough games over the years as a player, club official and supporter to know that the atmosphere inside the ground was something special," added Birch.
"The only time I can recall feeling the same 'hairs on the back of your neck moment' was when at Anfield as a boy and the Kop were singing 'You'll never walk alone'.
"This is a special club with special supporters and I'm going to do everything I possibly can to save it.
"I'd been told that the supporters would get back behind the club, but I didn't expect anything like this.
"It's something of which everyone who was there - fans, staff and players - can be genuinely proud.
"They recognised that Portsmouth Football Club needed the support of everyone in the community at this difficult time, and they stepped up to the mark."
Birch also added that the non-playing staff, many of whom have not been paid, at Fratton Park deserve credit for helping to ensure the game went ahead.
"The staff who made the game possible also deserve our thanks. They've shown incredible loyalty in these very difficult circumstances," he added.
"As too have the manager, his team and the players in taking wage deferrals. Keep the faith and we will survive."