Exeter boss Paul Tisdale praises debutant Aaron Dawson
Last updated on .From the section Football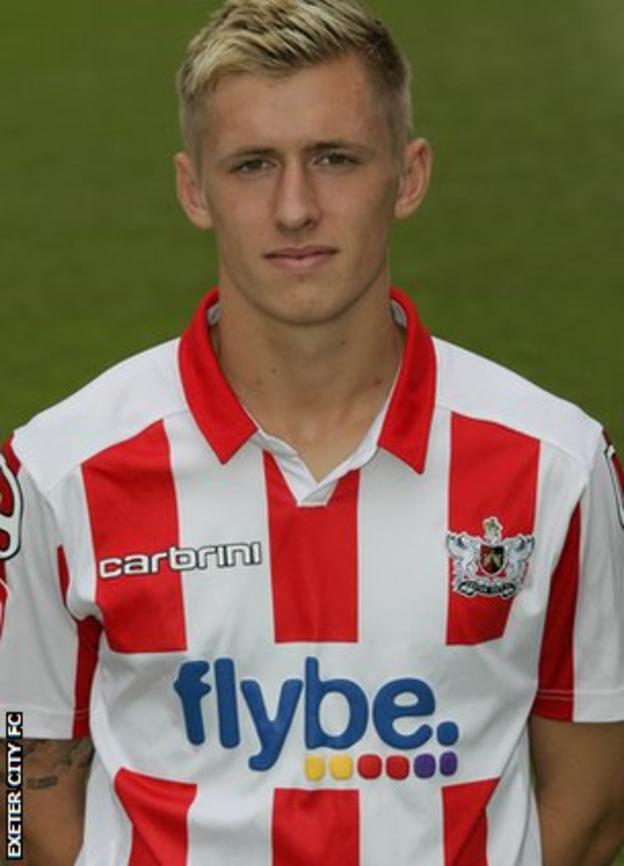 Exeter City manager Paul Tisdale praised 19-year-old Aaron Dawson after he made his debut at right-back in the 2-0 loss at Huddersfield Town.
Dawson started after Steve Tully failed to recover from a broken hand.
"Aaron did extremely well," Tisdale told BBC Radio Devon.
"We had a set up which enabled him to focus on just defending, his game wasn't diluted with attacking and certain nuances that you'd normally expect of a right back."
Tisdale continued: "Although the challenge was big, it was a simple challenge and he knew what he had to do and he had Scott Bennett backing him up at all times coming across the field.
"We continue to blood our young players, we don't go out and get a loan player from another club, we don't spend money on players, we play our own players and although we've lost it's a valuable step forward for Aaron Dawson.
"We're adding value all the time, even though there's no points to show for it," Tisdale said.
And the Exeter boss was pleased with the way his side played, even though they are now just one point off the relegation zone.
"It's not just a case of energy and effort, it's a case of doing the job.
"We put in a lot of time planning for today and how we were going to play and the spaces we were going to fill and we did it exceptionally well.
"I would have hoped to have had half of the opportunities we had today.
"I would have hoped we would have got something, I'd have hoped we'd have got a goal from a shot, a deflection, from whatever it was, a penalty.
"So I'm very disappointed that we played as well as we did, we had the ball in and around their box under control, not just kicked in there and hoped for the best, but under control, worked the ball into the areas that we chose to and planned to work to and we didn't get anything from it," he added.