Kenya's Mariga quits camp before Togo game in money row
Last updated on .From the section Football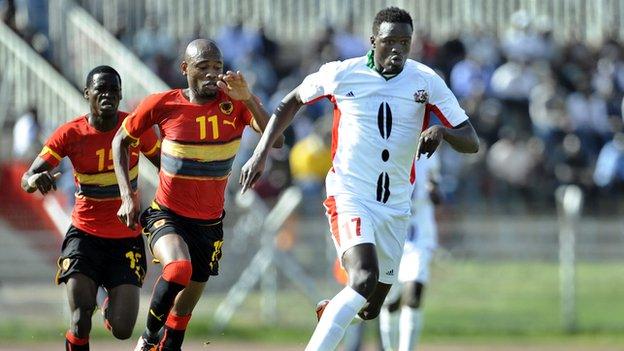 McDonald Mariga is out of the Kenya squad for their 2013 Africa Cup of Nations qualifier with Togo.
The midfielder, who is on loan at Parma from Italian giants Inter Milan, has been involved in a dispute with the football authorities in Kenya over outstanding payments for expenses.
He pulled out of the squad after failing to reach an agreement.
Some reports now say he has also been suspended by the country's new football authority, Football Kenya.
Mariga's brother, Celtic star Victor Wanyama, is still with the squad but is understood to be unhappy with the way his brother has been treated.
The exit of Mariga is a blow to coach Francis Kimanzi, who has been talking up the team spirit in his squad as they prepare to face Togo in Nairobi on Wednesday.
In the build up to the game he had been talking about the importance of Mariga - now gone - and of Wanyama - who is disgruntled.
"I know Wanyama is a very good midfielder and I have him in my plans for the match but football is teamwork," said Kimanzi, who is in his second spell in charge of Kenya.
Meanwhile, coach Kimanzi admits that he knows little about the Togolese but is particularly wary of Tottenham Hotspur striker Emmanuel Adebayor.
"Adebayor is a good player capable of scoring from any angle," said Kimanzi, who led the Harambee Stars during their failed attempts to qualify for the 2010 World Cup.
"We respect him a lot and it will also be good for my players to play against Adebayor."
Meanwhile the coach has denied reports that goalkeeper Arnold Origi will play in the game.
Origi announced his retirement from international football last month to focus on his club career in Norway.
"It's too late to talk about a player who has made a statement without consulting the federation or following the right channel," said Kimanzi.
"This is not the right time to talk about Origi. To me it's a non-issue."
The second leg of this match will take place in June, the same month when the group stages of Africa's race to the 2014 World Cup begin.