Niger coach Harouna Doula sacked after CAN failure
Last updated on .From the section Football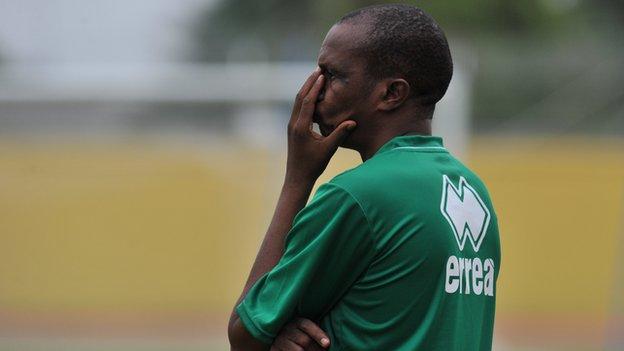 Niger coach Harouna Doula has been sacked by the country's football federation, Fenifoot.
The team lost all three matches during Equatorial Guinea and Gabon 2012.
"We have a duty to take steps to properly prepare our team for the upcoming qualifiers for the World Cup and the next Nations Cup," Fenifoot president Djibrilla Hamidou said.
"We have decided to change the entire coaching staff, not just the coach."
Doula is the third coach to lose his job in the wake of the Nations Cup - being preceded by Paolo Duarte of Burkina Faso and Amara Traore of Senegal.
Niger's next competitive game is at home to Gabon in June, at the start of the campaign for the 2014 World Cup in Brazil.
Gabon beat them 2-0 in their opening game of the Nations Cup - and match which also cost them the services of young star, Tidjani Amadou Moutari Kalala, who broke his leg in the game.