Perry backs Cardiff City to bounce back from Cup defeat
By Aled Williams
BBC Wales Sport
Last updated on .From the section Football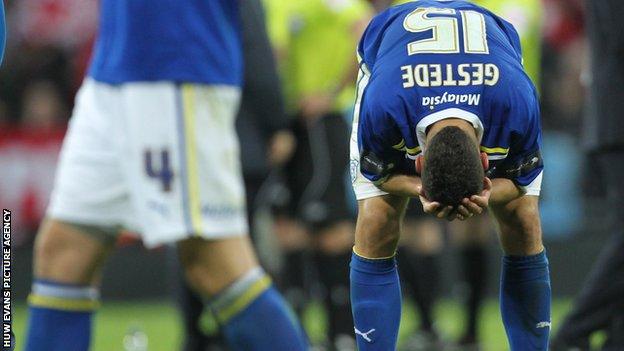 Long after the fans had filed out of Wembley, Jason Perry paused to reflect on what had been an exhilarating, and at times breathtaking, League Cup final.
He had witnessed the players of his former club Cardiff City put in the performances of their lives against Liverpool.
A showpiece final at the home of English football was as far removed as you can get from the old Fourth Division, where Perry made his Cardiff debut in 1987.
The former defender has seen gradual progression over 25 years and envisages the club going further, despite the shattering Wembley defeat on penalties.
"To see where they are now competing against Liverpool, a side with a lot of history, tells you how much this club has gone on," said Perry.
"When I played I wanted to take Cardiff City into the top flight and wanted them to win trophies. That was my ambition. It's my club.
"Myself and others are very proud of what we've done in order to get the platform for the club to build on.
"We've progressed so quickly. It's a different football club from when I was there.
"At times we struggled for money. You had to wrap your strappings back up and collect them.
"Now things are far more professional. The game has moved on."
Cardiff's recent history has been mixed. Development and achievements on the pitch had been overshadowed by off-field issues.
But the last 18 months have seen stability with multi-millionaire Malaysian Vincent Tan owner and Dato Chan Tien Ghee as chairman.
And Perry, who played more than 340 games for Cardiff, believes their backing has been crucial in Cardiff's development over recent seasons.
"The people in charge of what I can see are ambitious," added the former Hull City, Bristol Rovers and Newport defender.
"The Malaysians enjoyed themselves walking around the outside of the field. They saw what it meant to us, the supporters of Cardiff City. They may then invest a little more money.
"I can see us going on and on. But more importantly, because of the way Malky [Mackay] works, I can see us going on as a football club not just as a football team.
"The philosophy is there. We've now got an identity we didn't have under the previous manager."
Cardiff's first League Cup final appearance ended in the most dramatic fashion at Wembley, with a 3-2 defeat in a penalty shoot-out after extra time ended 2-2.
Perry, in his capacity as BBC Radio Wales pundit, says Cardiff did not look out of place against Kenny Dalglish's side.
And he believes the Wembley display underlines the changes introduced by manager Malky Mackay since his arrival in south Wales in June 2011.
"They might not have taken the cup home but they have taken a lot of respect," said the former Wales international.
"A lot of people have opened their eyes to what Cardiff City are doing at the moment. Those players are doing the jersey proud.
"When Malky came into the club he changed the culture. He's set down laws and rules saying: 'It's not individuals now, it's about us and a team ethic.'
"One thing supporters demand, as long as you give everything, as long as they're structured, they'll accept if the scoreboard doesn't go for them.
"These boys have shown us already they are willing to roll their sleeves up.
"These lads are going to go for it and it won't be for the lack of trying if they fall short.
"Hopefully they get into the play-offs and then maybe they can look back to this.
"This kind of experience may just help them to get that play-off position and win at Wembley."
With the Wembley final now history, Cardiff's attention will turn once again to the Championship.
Perry has no doubt Mackay will have his side refocused and refreshed for Sunday's home game against second-placed West Ham United, who are eight points ahead of Cardiff.
"Malky will be working overtime with his members of staff. Recovery will be big now because up next is West Ham," he added.
"It's a massive game. I would have liked to have gone into West Ham as League Cup winners.
"If Cardiff put the energy in, the organisation we saw at Wembley, then hopefully it will be that which will take them on for the rest of the season.
"They certainly sent a message out to everyone else that they are willing to work hard.
"The commitment is there, the belief is there. You just hope they don't run out of steam."