Alan Shearer on why defeat does not matter against the Dutch

By Alan Shearer
Former England captain and BBC Sport pundit
Last updated on .From the section Football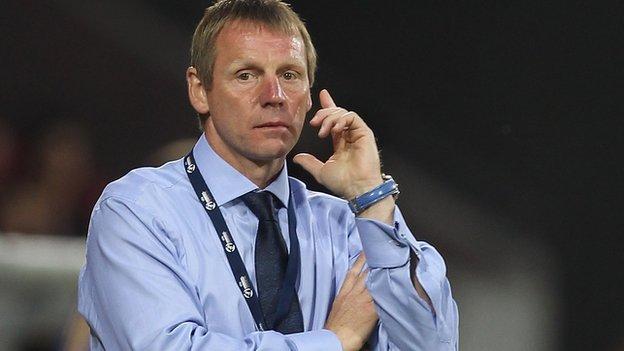 Wednesday's friendly with the Netherlands at Wembley will be a proud moment for Stuart Pearce and he will want to win the game, whether it is his only shot at being England manager or the first of many.
But the circumstances of this match, with Pearce taking charge following Fabio Capello's resignation earlier this month, mean that the result is not the be all and end all. Defeat would not be the end of the world.
Nobody ever wants to see England get beaten and, for Stuart's sake as much as anything, I hope they win.
But, for me, what we are looking for are some impressive individual performances. It is nice to see some fresh faces in the squad and, with Euro 2012 on the horizon, this game is the ideal time for some of the younger players to show they are ready for the international stage.
With Wayne Rooney and Darren Bent among the players to pull out injured, it means we should see something of Danny Welbeck, Daniel Sturridge and Fraizer Campbell up front against the Dutch.
And, if any of them are going to make it into the squad for the European Championship, then this is probably where it starts for them.
Normally, with a major tournament looming at the end of the season, we would be looking at a game against the World Cup finalists in a different way.
Bert van Marwijk's side are serious contenders to win Euro 2012, they had an impressive qualifying campaign and we know they have some outstanding players like Robin van Persie and Wesley Sneijder. They will be a big test.
After they play the Dutch, England only have two more warm-up games between now and the start of Euro 2012, in Norway on 26 May and at home to Belgium on 2 June.
But those matches will be much more significant in terms of preparations for Poland and Ukraine than this one. For a start, you have to think a new manager will be in place by then.
So I think Pearce has done the right thing here in leaving some experienced players out of his squad and giving it more of an experimental feel.
Everyone knows what the likes of Frank Lampard, Rio Ferdinand and Jermain Defoe can do. On the other hand, he also knows all about Steven Gerrard, who is involved.
He is 32 at the end of May and has already said he will consider his international future after Euro 2012.
But the new manager will have a few other options in terms of who gets the armband. He can pick from more experienced players like Scott Parker or Rooney, while younger players like Jack Wilshere and Joe Hart could get a look in as well.
As for Pearce himself, he says he is available to take charge of England this summer if he is needed.
He certainly has the qualifications to do the job. As well as being England Under-21 coach, Pearce was Capello's assistant for pretty much every game in the last four years.
So Pearce knows the players and the players know him. He has also got plenty of international experience and he is England through and through.
It is a wise decision to put him in charge for this game but, in the long term, Tottenham boss Harry Redknapp is still the right man for the job.