Sunderland's Fraizer Campbell reaps England reward after injury
Last updated on .From the section Football
As far as comebacks go, Fraizer Campbell could have hardly dreamed his would have gone better.
Only last month the Sunderland striker was waiting to hit the comeback trail following an 18-month lay off with a troublesome knee injury.
But not only did he score in his first two appearances on his return, Campbell's performances earned him a call-up to Stuart Pearce's England squad for Wednesday's friendly against the Netherlands.
"It's a great honour and I can't wait to go," Campbell told BBC Late Kick Off.
"From when you're 10 years old, that's what you think about, playing for your favourite club or playing for your country.
"It's been a rollercoaster, but it's been brilliant being back involved, playing games, it's been world class."
His demeanour belies it, but the 24-year-old has endured a difficult last few seasons.
The cruciate knee ligament injury he suffered meant hours of solo gym work, rehabilitation and fitness work in preparation for a comeback.
"It was tough, but I've got my family and friends that were always around me," Campbell added.
"The guys here at the training ground were brilliant, they made it a lot easier for me and if I didn't have them around me it might have been a different story."
Following a successful loan spell at Hull City, Campbell spent a frustrating time on loan at Tottenham Hotspur before joining Sunderland for £3.5m from Manchester United in July 2009.
He scored seven times in 36 appearances on his debut season on Wearside, before Campbell's fortunes turned for the worst on an incident in the 1-0 win against Manchester City in August 2010.
"It was a shock, it was nothing really," he said. "I changed direction a little bit and felt a pain in my knee, but when I stood up and tried to walk, my knee was going nearly backwards and I knew something was wrong.
"It was a strange feeling at first as I'd never been out for longer than a couple of weeks, until I had the scan and I was told I was out for six months, it was shocking really.
"You're sat in the house, your leg up, a machine attached to you, watching TV, it's boring as hell."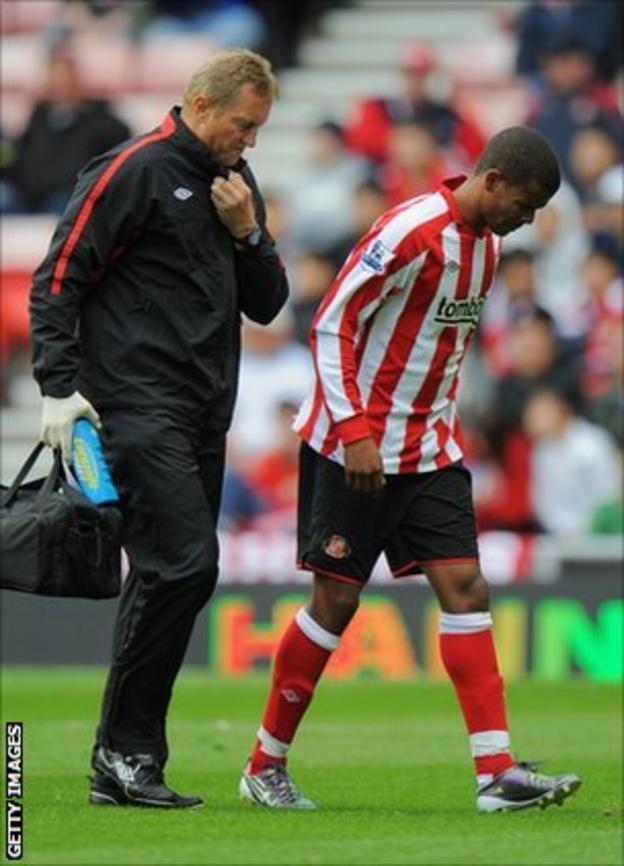 Support from fans was important, particularly for a player still establishing himself at the football club.
"I set up a Twitter account, I've been chatting to a lot of the fans on that," said Campbell.
"They were always giving me encouragement throughout my injury, and things like that help you get through it.
"If you're having a bad day, thinking it's been forever, those little comments cheer me up."
However six months of fitness work and rehabilitation were made redundant when Campbell endured a repeat of the injury during the warm-up to a 5-0 defeat - coincidentally against Manchester City - in April 2011.
That breakdown left Campbell facing an uncertain future, but with further recovery and the assistance of the Black Cats' medical staff, there was light at the end of the tunnel.
On the lunchtime of Sunday, 29 January 2012, Campbell was sent on as a second-half substitute in the Tees-Wear FA Cup derby against Middlesbrough, and made his mark with a thumping equaliser to earn Martin O'Neill's side a replay.
"When you score a goal you're ecstatic, but it was a hard 18 months for me so it was quite emotional as well," added Campbell.
"It erased all those doubts from my mind about whether I would be back the same and whether I could score goals, but I've proved to myself that I can do it."