Ben Turner's Cardiff City Premier League promotion call
Last updated on .From the section Football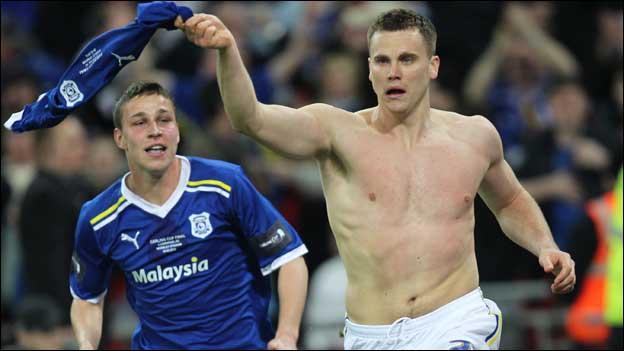 Wembley goal hero Ben Turner has told his Cardiff City team-mates their Championship run-in is "more important" than Sunday's Carling Cup final.
Turner scored a late leveller before the Championship club lost on penalties to Liverpool but he hopes their loss is a catalyst for a Premier League push.
Cardiff have dropped to sixth after three defeats in four league games and host second-place West Ham on Sunday.
"We've got 14 games more important than this cup final," said defender Turner.
"If we get the next 14 right, we could be playing league games against Liverpol etc week in and week out.
"That is what we've got to aim to do - and if that means returning to Wembley for the Championship play-off final, then bring it on.
"To come to these kind of occasions is why you work hard."
Turner's extra-time strike ensured Cardiff, who had taken a first-half lead through Joe Mason, bravely held Premier League giants Liverpool 2-2 at Wembley.
But the Welsh club lost 3-2 on penalties in their first League Cup final appearance.
Cardiff suffered play-off final agony at Wembley losing to Blackpool in 2010 and failed in the play-off semi-finals last season losing to Reading.
But Turner and fellow Wembley Carling Cup final goal-scorer Mason feel their Wembley heartache should spur, rather than hinder, Cardiff's Premier League promotion bid.
"There are a lot of positives to be taken from this," said Republic of Ireland under-21 international striker Mason.
"Especially going back into a league campaign.
"We've got no distractions now and we're going to try and get promoted.
"You want to play against the best players and everything at Cardiff is built to play in the Premier League, going that extra mile and we will get there.
"West Ham are coming next Sunday and that's all we can think about now. There are no distractions. There are eight games in March and we've got to try to get on a good run and get up that league."
West Ham occupy the final automatic promotion spot in the Championship and the Bluebirds, hoping for a third successive play-off campaign, trail the Hammers by eight points while Brighton and Middlesbrough have joined Malky Mackay's men on 53 points.
But Cardiff chairman Dato' Chan Tien Ghee does not believe their Carling Cup defeat will be a promotion setback
"This is football. If we need to do it, coming to Wembley, then we will continue to do it until we succeed," he said.
"Coming to Wembley is special, it means we are competitive.
"I've been here twice now and not many teams get the chance to come here. But I don't take Wembley for granted.
"I would like to do it a little bit easier if I could because my heart couldn't take it."
Asked whether he felt Cardiff could still claim an automatic promotion spot, he added: "It is a very difficult, tight league but we will do our level best.
"This is football. Anything can happen."