Malky Mackay asks Scots to spare Kenny Miller in Slovenia
Last updated on .From the section Football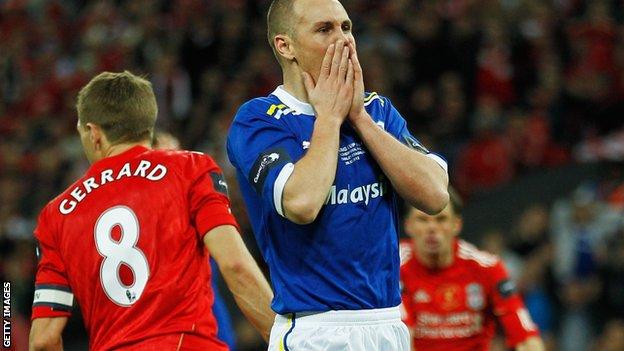 Cardiff City manager Malky Mackay hopes Scotland will use Kenny Miller sparingly against Slovenia after the striker's Carling Cup final nightmare.
Miller missed a great chance to win Sunday's match against Liverpool in the final minute before missing a penalty in the shoot out after a 2-2 draw.
"We had a chat last night," said Mackay of the Scotland coach and Miller's involvement in 120 gruelling minutes.
"And he's certainly going to take it into consideration."
Miller was one of three members of Levein's squad for Wednesday's friendly who took part in a Wembley spectacle with plenty of Scottish interest.
Charlie Adam missed one of Liverpool's penalties in a dramatic finale, while fellow midfielder Don Cowie slotted his away for Cardiff.
Full-back Kevin McNaughton, who did not make Levein's squad this time, also played most of the match for the Welsh side against the team managed by Scotland legend Kenny Dalglish.
But it was Miller who stole the headlines along with Anthony Gerrard, who missed the spot kick that finally let slip the Championship side's grip on the trophy.
"Because of his high standards, he will be very disappointed," said Mackay of the former Celtic and Rangers striker.
"I think it was surprising with the way he has been this year for us and taken up this challenge and really ran with it and become an important player for our team."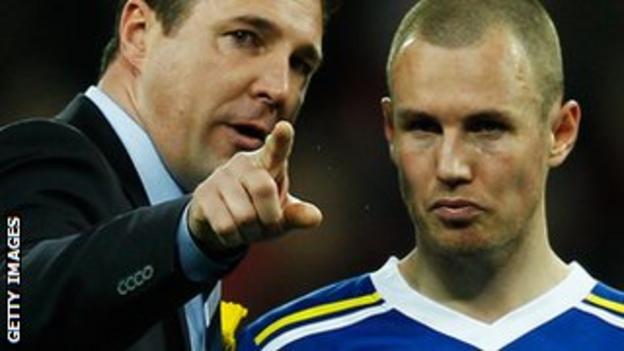 However, Mackay was delighted of his team's performance against one of the major forces in the English top flight.
"The fact it was so close and we had the chance in the last minute of the game when Kenny was put through and just put the ball over," he told BBC Radio Scotland.
"And then, when Charlie Adam misses the second penalty and Don scores his, you're thinking you're two kicks away from winning the Carling Cup against Liverpool.
"So twice it was within our grasp. I was so proud of them."
Mackay was particularly pleased that his side had run close a team that the previous weekend had hammered his Championship rivals, Brighton, 6-1 in the FA Cup.
He hoped that that his sixth-top side would take the positives out of the game rather than suffer a hangover as they continue to battle for promotion.
His conversation with Levein highlighted the fact that, for Scotland, it is a friendly, while Cardiff have an important game on Sunday against second-placed West Ham.
"We could have quite easily done what other clubs have done and just told them he's injured," said Mackay.
"I've got three or four actually. I've got a Slovakian, I've got an Icelander, an Under-19 English boy and I've got two Scots, so we could have quite easily said they were injured and pulled them out.
"But I've certainly got a lot more respect than that for Craig."
Mackay has continued to impress as a manager after his summer switch from Watford, but the 40-year-old talked down the possibility of succeeding Neil Lennon at former club Celtic once the present incumbent decides to depart or is removed should his successful run fail to continue.
"There's going to be an awful lot more experienced and more qualified managers going up for that job than me," suggested the former defender.
"I'm three years into it and at my second club. It is a huge job and one, I am sure, any Scottish manager would be attracted to."