Joe Allen targeting twin Wales and Swansea victories
Last updated on .From the section Football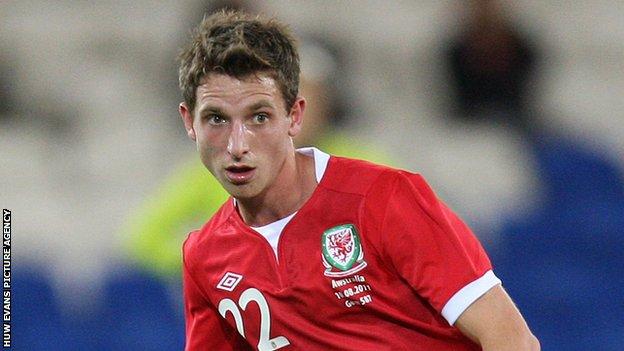 Joe Allen is targeting two victories for Wales and Swansea City in the space of four days.
First the midfielder will be part of the Wales squad taking on Costa Rica in the Gary Speed Memorial Match in Cardiff on Wednesday.
And that is followed by the Swans Premier League trip top face Wigan in the Premier League on Saturday.
On Wales he said: "It's not a friendly, it's a great chance to show our respect and feelings to a great man [Speed]."
Like the rest of Welsh football Allen is still coming to terms with Speed's death in November, 2011.
"Gary is sorely missed by us all and we want to show his family that we're all thinking of him."
Gary is sorely missed by us all and we want to show his family that we're all thinking of him
After Wednesday's friendly Allen's attention will turn, along with Wales team-mates Ashley Williams and Neil Taylor, to Saturday's clash with bottom club Wigan and former Swans manager Roberto Martinez.
The Swans go into that game nine points clear of third-bottom Blackburn and 10 ahead of Wigan following their 2-0 defeat at Stoke City last Sunday.
It was the Swans' second straight win after going down 3-2 at home to Norwich City the previous weekend, which has seen the club slide down to 14th place in the top flight.
"We have lost the last two games and we're bitterly disappointed with that, so we can't allow another defeat on Saturday," said 21-year-old Allen.
"You would look at the scoreline and think it was a bad day at the office, but that wasn't the case. We played well overall and we created some good chances.
"They scored from their strengths, and that's one of the reasons why they have been a formidable team in this division.
He added: "The supporters were fantastic again at Stoke. Even if they go away from games after a defeat they are still encouraging us and raising our spirits.
"We were disappointed not to send them home happy, but hopefully they will enjoy their trip home from Wigan on Saturday night."